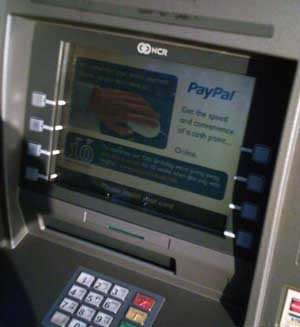 PayPal have started to advertise on cash machines across the country. As I was about to withdraw some cash the on screen advert caught my eye and sure enough it's PayPal with the message "Get the speed and convenience of a cash point….. Online"
I'm not sure it would be enough to convince me to open a PayPal account, but advertising like this can only increase PayPal's reputation and encourage more users to pay with PayPal when it's offered as an online payment option.
It's definitely interesting to see PayPal growing into a mainstream payment method and start to advertise off eBay and off the Internet.