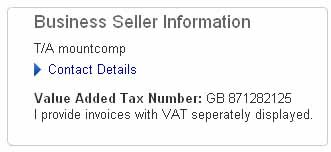 I've just had my Sunday evening disturbed by an eBay buyer turning up on spec hoping to buy a laptop power supply. He'd obtained my contact details from my eBay listings "Business Seller Information", but although this is my registered address my stock is all held in a warehouse 30 miles away.
Sadly the buyer (who doesn't actually have an eBay account but got a friend to search on eBay as his laptop is dead and I came up as the closest seller) had driven 35 miles to try source a power supply. I do feel for him, but even if I had the warehouse address displayed as an online business I don't accept walk in customers and wouldn't be there on a Sunday evening.
This reveals the weakness of eBay's insistence on displaying "Business Seller Information" on listings. I have nothing to hide and am more than willing to disclose this information to buyers and always have done in the past. eBay have now chosen to display my administration contact address but quite frankly I could do without buyers turning up on spec hoping to make a purchase as it's a waste of both their time and mine.