Amazon are branching out into High Street retailers for sales of their Kindle book reader. This is an interesting development as Amazon are traditionally an online retailer and marketplace. It appears that the phenomenal success of the Kindle with eBooks outselling paperbacks and hardbacks on Amazon has given them a thirst for a bigger share of the market.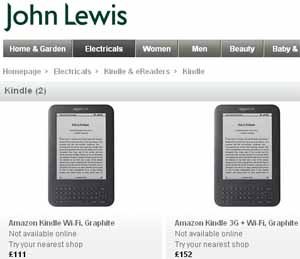 You can buy a Kindle (at the same price as from Amazon) in Curry's, Dixons, John Lewis and PC World. However these retailers are only offering the device in their retail outlets, they won't be supplying them online.
This should generate increased sales for Amazon as the Kindle is available to customers who may never have made a purchase on Amazon in the past, but as the Kindle is tied to Amazon's inventory of ebooks every subscription and ebook purchase will add to Amazon's sales.
As the Kindle is priced the same in retail outlets as direct from Amazon they must be losing margin on the sale of the hardware, but this will probably be more than made up for in the longer term with newly acquired customers and eBook sales as well as in the brand awareness.