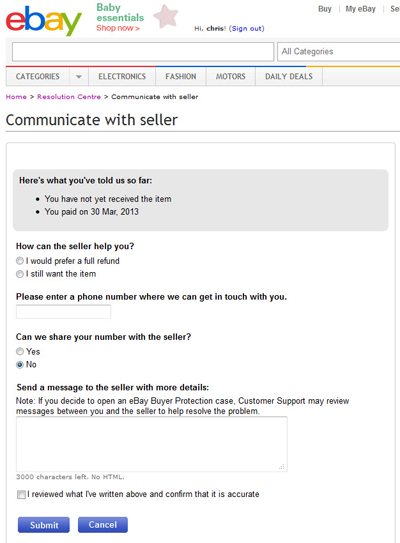 We noted a few days ago that eBay had changed how buyers communicate with sellers and have been looking into the reasons behind this change and how it affects sellers.
One of the problems sellers have told us is that My Messages are often handled through their third party software applications but resolution center cases are difficult to manage via third party software as you have to use the eBay console.
Why eBay has made the change
There are some advantages to the new system, for instance sellers can refund direct from the resolution center rather than logging into PayPal and get their final value fees back automatically.
There's a centralised place where all customer post sales queries can be handled and eBay has visibility of them. Also open cases won't be counted against seller performance unless they're escalated to eBay and customer service decides in the buyer's favour.
Buyers will also be unable to perform a PayPal chargeback if an open case has been logged.
What is eBay's reasoning behind the change
Sadly it's as normal a case of poor sellers impacting the best. Some sellers don't monitor their messages and miss the first contacts from a buyer with a problem, or simply ignore them hoping that the issue will go away. By having all cases in the resolution center eBay can monitor those sellers ignoring buyers and will be able to track the issue from the first contact.
Sellers will still be able to access tools to make any issues right prior to the buyer escalating the case to eBay. Sadly the solution often appears to be simply refund or replace – the new resolution flow doesn't make it easy to choose options such as "Check your local Royal Mail delivery office", and the flow is definitely easier for sellers who include tracking on all their shipments to prove delivery.
How does the new resolution flow work for buyers?
It doesn't matter what part of the site a buyer is on if they have an Item Not Received or Significantly Not As described issue – resolution center, My eBay, View Item Page, Ask Seller a Question – they'll be directed to the same flow with a set of six questions to select from.
Both buyers and sellers will be updated via email (yes you need to check your email!) and all details will be stored in a centralised location. Sellers HAVE to respond via the limited set of responses and message field within the resolution center.
It's also important for the case to be closed, we're hearing that some cases are left dangling as once a buyer is happy they don't necessarily add any more comments to the case and close the issue.
When do eBay get involved?
eBay will only intervene if the buyer escalates the case after eight days. For Item Not Received cases eBay will ask buyers to wait until the estimated delivery date before they can open a case. Hopefully this will reduce questions for sellers, although it does mean that you need to enter accurate shipping handling times and select the correct delivery service for this to work, as well of course as marking items as despatched and enter tracking numbers on to eBay.
Is it working?
As with all site changes it's too soon to give a definitive answer. Both buyers and sellers need to become accustomed to the new flow, but one thing is certain – sellers need to become accustomed to more cases being opened in the resolution center and deal with them there.
Most of the really good sellers that I know have great customer services and have routinely handled any issues without ever having cases opened against them. That will no longer be the case, but don't worry – the cases won't count against you unless they're closed by eBay in the buyers favour.
All sellers need to do is to monitor the resolution center closely (not forgetting that email is notoriously unreliable) and respond to case updates promptly. The good thing is that if you have an unreasonable buyer then eBay will now be able to see all communications from both you and the buyer in one place.
The obvious downsides are that delayed items aren't generally considered lost by Royal Mail for 15 days, eBay's delivery estimates are now next day for 1st Class and 2-3 days for 2nd Class. Also sellers have limited options in the flow rather than being able to discuss a resolution and come to an agreement between two reasonable people – sellers now have to go down the official eBay resolution route as soon as a case is opened.