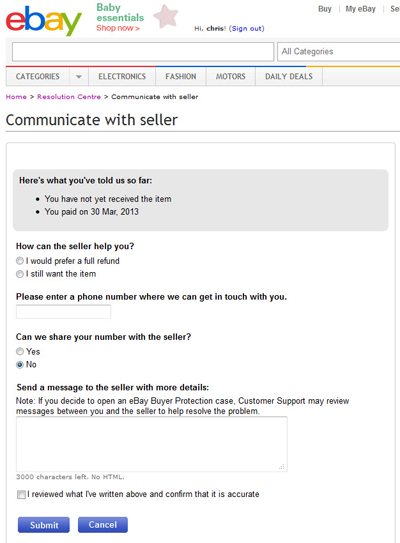 We've been hearing from a number of sellers who have seen a large uptick in the number of resolution cases opened against them. Previously it was normal for buyers with a transaction problem to email the seller through eBay My Messages, but a new contact flow appears to encourage buyers to go through the resolution center.
In My eBay the "contact seller" link leads to a set of form to fill out rather than the more familiar member to member communications. Even if you click on the "Contact Member" form, if you've had a transaction with the seller then eBay will direct you to the new communication flow unless you say that the message is not connected with a recent purchase.
The problem is that rather than quickly resolving problems such as "Please check the Royal Mail Delivery Office", once a case is opened sellers have limited options (refund or replace). There's also no way to negotiate the "I'm sorry it's gone missing, I do have another that's slightly different would you like that instead?" easily. Again the simple refund/replace is your only real options.
We've also heard from sellers who in the past have very few or no opened cases who have refunded by mistake. Instead of replacing an item. If you're getting an unexpected number of opened cases make sure you read them and click the right response.
We've also had one (so far unconfirmed) report that if a buyer types an excessively long reply that it may not make it through the system and the comment itself will be missing. It's normal for an unhappy customer to be verbose and give a long rant in comments so if true this is particularly unhelpful.
Have you seen a large increase in opened cases? If so our best advice as always is whenever possible pull the buyer's telephone number and speak to them in person. Also keep a much closer eye on your opened cases as well as eBay messages to make sure that you don't miss any opened cases.
We would suggest that all sellers click the contact seller link (without sending a message) for one of your own recent purchases just to see the options presented to your own buyers.