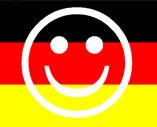 Most sellers are pretty familiar with the legal requirements for selling in the UK which are mainly covered by the Distance selling regulations and the Sales of Goods Act. Selling to Germany however is a little different, look at any Germany listing and you'll see a huge list of terms and conditions and legal information that you're obliged to provide.
If you want to list directly on eBay Germany then you'll need to be familiar with the huge amount of information you're obliged to provide. eBay India have just put up a release detailing exactly what you need to do and it'll apply to UK sellers just as much as to Indian sellers.
eBay warn "Failure to comply with these legal obligations can lead to costly warning letters and cease-and-desist claims from competitors and certain consumer protection agencies. It could also lead to court proceedings and penalties".
German sellers aren't reticent about taking legal action against each other. The theory goes that if you don't follow the law to the letter then you may be saving money by not offering the requisite service. Therefore it's unfair competition, you're costing you competitor money as they are providing the service and they'll sue you for it!
You can read the full on the eBay India site and if you're going to list directly on eBay Germany (as opposed to passive selling "ship to") we'd recommend you get your Ts and Cs compliant with German requirements.