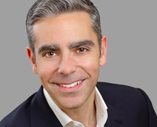 President of PayPal David Marcus (pictured) has written to staff at the company's San Jose HQ, telling them off for not using PayPal products or referring enough business. It makes for pretty interesting reading.
Part of the email reportedly said: "It's been brought to my attention that when testing paying with mobile at Cafe 17 last week, some of you refused to install the PayPal app (!!?!?!!), and others didn't even remember their PayPal password. That's unacceptable to me, and the rest of my team, everyone at PayPal should use our products where available. That's the only way we can make them better, and better."
I think I've written this before but I like cut of David Marcus's gib. And this email shows pretty clearly why. He's real and this email hasn't been sanitised or toned down. He's angry and right to be. Now whether that is enough to cut through the eBay Inc treacle, I couldn't say. But it seems like a solid approach.
He was also critical of US staff who hadn't been referring as much PayPal business as internationally based colleagues and were not as innovative. He wrote:
"PayPal It, our program enabling you to refer businesses that don't accept PayPal has seen the least amount of leads in *absolute* and relative terms vis-a-vis ALL other locations. Offices with under 100 employees beat us by an order of magnitude (total PayPal it leads to date: 126,862, San Jose leads: 984…)," and "Employees in other offices hack into Coke machines to make them accept PayPal because they feel passionately about using PayPal everywhere. I don't see these behaviors here in San Jose."
At the very least it would seem that PayPal has a problem. International offices are going great guns (and don't forget the UK team has taken the lead in developing the pretty cool PayPal Here product). But the guys at SJC HQ might be at risk of being a little bit too comfortable. But it does seem that Marcus has a solution:
"In closing, if you are one of the folks who refused to install the PayPal app or if you can't remember your PayPal password, do yourself a favor, go find something that will connect with your heart and mind elsewhere."
Bravo.