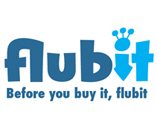 Flubit have today announced a major new partnership with Barclaycard to offer a new retail proposition, which is set to launch later this year, potentially benefiting thousands of online retailers.
Launched in May 2013, Barclaycards bespoke offers currently has millions of active users and with a current base of 35 million Barclaycard customers the potential for growth is significant. Barclaycard will use Flubit's technology and platform on its bespoke offers website to create private, personalised prices for UK online shoppers
Alongside the personalised discount deals users can browse, Flubit's technology will cater to users looking for a better offer on items they've already decided to purchase. The partnership brings a greater potential reach for Flubit and its integrated merchants, with their catalogues being made available through the Flubit platform itself, Barclays Bespoke Offers website and Flubit's other current and future channel partners.
Existing Flubit merchants and any new retailers on-boarding don't have to do anything. They will automatically benefit from this additional sales channel and the millions of new potential customers it will provide.
Flubit Growth
Since our last update Flubit tell us that they have significantly grown their customer base and hosted millions of pounds more in transactions. They say that their "compelling model works and the stats speak for themselves" with 30% order conversion rates and 62% of customers repeat purchasing. 10% of customers have ordered over 10 times already.
Is Flubit for you?
It's free to sell on Flubit, there are no fixed fees and they have made set up easy with integrations with the likes of eSellerPro, ChannelAdvisor, Linnworks, SellerExpress, Magento and a host of other multichannel software providers.