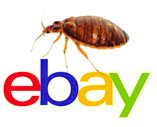 We're getting reports that eBay is down this morning (and it's not a Friday so it can't be a maintenance issue).
Currently from Tamebay HQ we've had no problems viewing the site, but DownDetector has had several thousand hits in the last hour.
Is eBay down for you or is it up and working? Have you had any site issues at all today?
Edited to add: eBay have told us "We are investigating reports that certain eBay features are intermittently unavailable or slow and we apologise for any inconvenience caused"
We have also had a few reports (on phone, twitter and Facebook) that Tamebay is also down so we suspect it may be a wider Internet issue that's causing the problems this morning
Update 2
BT Broadband may be the root cause of the issue
It looks very much like this may be a BT issue. You can check the broadband status in your area by visiting the BT Service Status website and clicking on "Broadband and email". Even if your ISP is not BT it may still be causing you issues as many providers use their networks.
Of course, whilst the ongoing BT Broadband issues caused by weather may well be causing the problems for some, there may still be other problems preventing others from viewing eBay.
Update 3 (1:10pm)
eBay post announcement
An , although it's dated as 10.16 this morning (possibly it's been stuck in the glitch for a few hours?).
The announcement acknowledges the glitch and suggests attempting to complete transactions later if you've been able to get as far as logging on and trying to make a purchase.
Update 4 (1:26pm)
The issue is fixed
eBay have to say "We are happy to confirm this issue has been resolved. We apologise for the inconvenience and thank you for your patience".
Update 5 (1:36pm)
Statement from eBay
eBay just told us "Some users experienced problems accessing eBay in Europe from 08.55am BST until approximately 12.40pm. Our technical experts immediately investigated potential causes including third party internet service provider access issues. All eBay sites are working normally and we are sorry for the inconvenience".
The wording of eBay's statement does tend to strongly suggest the ISP issues are to blame rather than a problem with the site itself which explains why access was so patchy across the country and the EU.
Update 6 (3.24pm)
It was the Internet, not the eBay site itself
eBay have just told Tamebay "Some users experienced problems accessing eBay in Europe from 08.55am BST until 12.33pm. All eBay sites are now available to all users and throughout this issue users who could access the site were able to trade normally. eBay's technical experts identified this was due to upstream Internet Service Provider (ISP) issues and bypassed the problem to restore access as quickly as possible. We take these issues very seriously and apologise for the inconvenience".