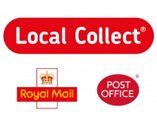 Royal Mail have announced that Local Collect is to be made available to small businesses, automatically creating the UK's largest click and collect network.
With 10,500 Post Offices involved, those that use Royal Mail Tracked 24, Tracked 48 or Special Delivery will be able to offer their customer the option to pick their parcel up at the Post Office of their choice. (99% of the population lives within three miles of a Post Office branch.)
As part of its investment in new IT systems, Royal Mail have developed their Local Collect API and upgraded their despatch management tool – The API allows retailers direct access to the details of all Post Offices, before labelling and shipping the parcel through the Royal Mail parcel despatch management tool. It also enables online retailers to integrate the service in to their website and checkout processes for shoppers to select a Post Office convenient to them.
The big question of course is when will marketplaces such as eBay integrate Royal Mail into their Click and Collect program. Of less interest is Amazon as they're moving away from Royal Mail for FBA deliveries, but what about Rakuten.co.uk when it takes over from Play.com – will they have Royal Mail Local Collect integrated from day one?
The Post Office say that more than 5,000 of its branches offer access to items ordered through click and collect outside the usual Post Office opening hours.
Local Collect is part of an ongoing programme by Royal Mail Group to improve flexibility and provide more options for people to receive items they have ordered online. Parcelforce Worldwide, started to deliver seven days a week at the end of June when it launched Sunday deliveries. Separately, Royal Mail will pilot Sunday afternoon opening at around 100 delivery offices across the UK from September. This is designed to make it easier for shoppers not at home during the day to get their parcels. At the same time, Royal Mail will pilot Sunday deliveries to addresses within the M25 motorway.
We've said quite openly on Tamebay that Royal Mail need to work on convenience for ecommerce shoppers. It's great to see them making steps in the right direction. Now it's up to marketplaces and ecommerce merchants to integrate Royal Mail Local Collect to give their customers choice.