Just before the Apple iPhone 6 launch date, PayPal ran a full page ad in various US newspapers saying "We the people want our money safer than our selfies. PayPal, protecting the people economy". This was an obvious dig at the news of various celebrities' naked pictures being hacked from their Apple iCloud accounts.
Why people would be daft enough to take naked pictures of themselves and leave them online is one question, but it was too good an opportunity for PayPal to pass by.
So having seen PayPal ridicule Apple's safety record, it was somewhat of a surprise to find eBay positively raptuous about Apple Pay. Reading "6 Reasons to Upgrade from the iPhone 5S to the iPhone 6" on eBay and to find reason 6 is Apple Pay, with eBay lauding it's "swipe your phone and confirm your identity using the TouchID fingerprint scanner" feature. eBay reassuring readers that "Apple does not keep any records of your payments" and "The data is encrypted so that users do not actually have to hand over their payment information to merchants as an added security measure", must have PayPal spitting.
It's probably very unfair of me to connect the dots between some innocent eBay marketing encouraging consumers to buy and sell iPhones on eBay with PayPal's negative Apple Pay marketing, but I couldn't resist and it does make for an excuse for a second look at Apple Pay.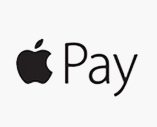 The US where Apple Pay is first to launch will be the proving ground but perhaps the biggest barrier to Apple Pay isn't business adoption or consumer acceptance. It's the fact that Apple only have around 25% of the smartphone market and that leaves 75% of us who won't be using it, more than 75% in reality, as not all iPhone users will sign up for Apple Pay.
Whilst in the US limits are more relaxed, in the UK there's still a £20 cap on NFC payments and across much of the EU it's €25. That means, apart from buying your morning coffee and paying for the London Underground, NFC is pretty much useless this side of the Atlantic. We're a long way off even being able to buy a tank of petrol with NFC payments, not to mention the millions of businesses who would need to upgrade their till equipment before they can accept NFC payments in the first place.
What we will see much sooner however is the ability to pay with a single touch to buy goods and services from apps. It's also true to say that the average iPhone users generally has a greater disposable income than those using other smartphones. That's where the real payments war will be fought, as developers build apps for the iPhone they'll inevitably build in Apple Pay as the defacto payment method and all the talk about NFC payments will fade into the history as a red herring.
Should PayPal be scared enough of Apple Pay? Probably, Apple have a history of making their products and services big hits, but we have to remember they're only for Apple customers. Unlike Google Wallet and PayPal, Apple Pay is for Apple users only and nothing will convince people like me to buy an iPhone no matter how good their contactless payment solution might be.
The time for PayPal to get scared is when Apple roll out Apple Pay for non-Apple devices. Then they really will be a contender for PayPal to fear.