When I purchased my last laptop I didn't write about it on Tamebay. That's unusual for me as I normally love getting new tech gadgets and regular readers will know I've reviewed many of the laptops, mobiles, smartphones and even digital entertainment devices that I've purchased in the past.
Now I know why I didn't write about the last laptop I bought – it turned out to be rubbish. The dvd drive has given up, the screen fades in and out and it froze on a regular basis until recently I was rebooting it multiple times per day. It had to go (or at least once I've wiped the data it'll be going for a warranty repair), so less than three months after buying it I've had to buy a replacement and I can already tell it is massively superior.
This time I've opted for a Lenovo, who acquired IBM's PC and laptop business in 2005. It's a G500 with a Pentium 2020M 2.4GHz processor, 6GB of DDR3 RAM, a 1TB hard drive, DVD+/-RW, Windows 8.1 and a 15.6″ 1366 x 768 HD display.
The screen is good with no flicker or delay, the dual stereo Speakers With Dolby Advanced Audio v2 sound great to me, connections with a USB 2.0 port, 2 USB 3.0 ports, a SD/MMC 2 in 1 card-reader and an HDMI port should suffice for most users. It goes without saying that it has Wifi, Ethernet port and Bluetooth, but a nice touch not always present is a VGA port for when you want to connect an overhead projector or run with a full size monitor.
Another of the little niceties is that the hard drive is sensibly partitioned to give you a huge 892GB C drive. I detest manufactures that hardly assign any space to the C drive and waste the available storage on a D drive for drivers and recovery software. (Without specialist software it's impossible to increase the size of the C drive partition no matter how much space is available on the physical hard drive).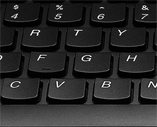 One of the joyous things about Lenovo is their keyboards. Rather than the flat keys you often find on cheap laptops, on the Lenovo AccuType ergonomic keyboard, the top of each key is concave allowing your fingers to easily and accurately type.
If there is an annoyance it's that the function keys on the keyboard aren't clearly labelled. That is to say the labels are very clear for functions such as sound and brightness logos, but they F1, F2… numbers are tiny and in red which isn't that visible against the black of the keys. Out of preference I'd have had the font slightly bigger and in white to make it stand out.
If you're looking for a lightweight laptop then the Lenovo G500 definitely isn't for you. Weighing in at 2.6kg it's reassuring solid but not something you'd want to carry around all day. That doesn't bother me though… my laptop doesn't travel far and if it does it's normally in the car.
So down to the all important stuff – is the laptop any good and what does it cost? Well to be perfectly honest it's hard to buy a laptop which won't do everything you need for running an ecommerce operation or any business today. They've all got plenty of memory, a fast (or fastish) processor and for most people a 1/3 terabyte hard drive would suffice and it's hard to find a modern laptop with less. With those criteria the Lenovo G500 exceeds the basic requirements on all counts.
The . If you're looking for a solidly built laptop from a big name manufacturer it's well worth considering.