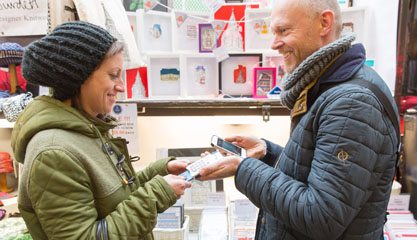 Here's a little Christmas discount for anyone looking to purchase a PayPal Here card reader. Currently if you purchase PayPal Here directly from PayPal it'll cost you £69.95. We've discovered that it's freely available online for just £49.95!
PayPal Here is being distributed by the Wolseley UK through three of their plumbing websites: Parts Center (£49.96, free collect in store or £6.90 delivery); Plumb Center (£49.96, free collect in store or £18.00 delivery); and the very lowest price Discounted Heating (£49.95 free delivery).
We understand that the discounted prices will be while stocks last or until the end of March 2015. If you're going to buy a card reader you might as well save £20 which is a pretty significant discount on a £70 item!
The question is why haven't PayPal lowered their sale price too? The answer probably is because Wolseley UK can promote the device to a large audience of plumbers and related tradesmen who may not have been exposed to the card reader before. Here at Tamebay we think online retailers should get the very best price available and don't care if you're not a plumber so grab the saving while it's available.
What we do think is a bit strange is that you won't be able to pay with PayPal. Wolseley UK are happy to promote PayPal to their merchants but they want you to pay for your PayPal Here card reader with plastic!