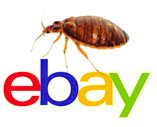 We've been notified that there's a glitch with eBay My Messages. Messages are being delivered to merchants via email, but are NOT appearing in eBay My Messages.
It's likely that if you've already started a conversation thread with a buyer that you will see any updates from them in your eBay My Messages. However if it's the first time that a particular eBay user has contacted you then you probably won't see the message.
What this means is that for the moment you need to rely on your email program to ensure that you don't miss communications with buyers. It also means that if you routinely use third party software to manage communications with buyers, messages may also be missing from your software solution – again you'll have to rely on emails.
It's not a great time of year for a message glitch, chances are that buyers are asking things like "Can you deliver in time for Christmas?" and similar enquiries. However whilst it's a nuisance it won't affect sellers who routinely use email to respond to buyers, you'll only be affected if you log into eBay My Messages to manage communications.
eBay are aware of the issue and their tech teams are working to fix it as soon as possible.