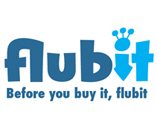 Flubit have added a new 'Instant Offer' feature to their website to save you money when buying on Amazon.
Initially Flubit would allow you to create a 'Demand', which would get you an offer price up to 15% less than the current product cost on Amazon. Now if you're in a hurry you can create an 'Instant Offer' which will create you a private offer within 30 seconds, a little bit cheaper than the price you found on Amazon.
As with Demands, Instant Offer on Flubit is free to use and enables you to receive immediate discounts on pretty much any product they want, at any time of the day or night.
Flubit CEO & Co Founder Bertie Stephens explained: "There's no obligation to buy on Flubit, Instant Offer is for those customers who want an immediate discount on a product they were going to buy. If they like what they see they can place the order straight away or place a Demand and we can create them an even better offer!"
Next time you're about to buy a product on Amazon, click over to Flubit and see if they can save you some money.
If you'd like to sell on Flubit or learn more, register your interest at weflubit.com.