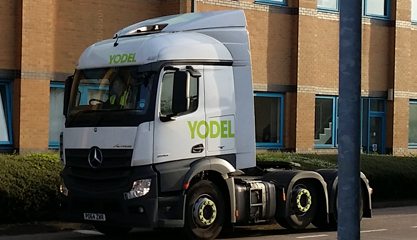 It's not often anyone gets to see what happens inside a courier's central sorting depot, so when we were offered the chance to take a tour of Yodel's Hatfield facility we had to go.
At about a quarter mile long, it's a huge warehouse, although it's surprisingly narrow. The reasoning behind this is that delivery trucks pull up on one side of the warehouse to unload, the sortation machinery receives the parcels, sorts them and they end up the other side of the warehouse ready to be loaded back onto trucks for the trip to local courier depots and then out for delivery to the end recipient.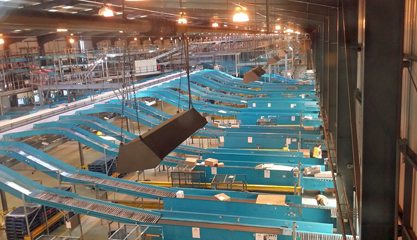 Whist Yodels warehouse is by no means the newest in the country, it's still one of the most sophisticated. Just one of the infra-red scanners which read bar codes on the parcels can cost anything up to a quarter of a million quid and much of the technology has been adapted from that which you'd see for luggage handling in airports.
Yodel can at this facility handle pretty much anything from small packets (DVDs or books in jiffy bags) all the way up to flat pack furniture and I even saw mattresses going through the plant. Some items do have to be manually sorted, either due to their size or because they're fragile (boxes of wine!) or perhaps because they'd simply make a mess (boxed flowers in water). Most items however, once loaded onto the sortation equipment progress through the warehouse and are delivered to the loading bay without being touched by human hand.
It's pretty impressive and if you ever get the chance to visit a courier sorting depot it's well worth going. If not, here's a quick video of some footage we shot at Yodel:
https://youtube.com/watch?v=sFW2b_wBkoo