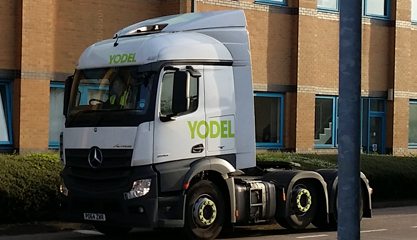 Last year on Black Friday, Yodel took the unusual step of throttling parcels into their network by suspending deliveries for two days. This year they've put plans into place to enable them to maintain their next day service promise at all times throughout the peak season.
To achieve this and ensure that customers receive a high quality, assured next day service throughout Christmas Yodel will be limiting their next day capacity and we will only accept agreed parcel volumes. They will be consulting with retailers and, once volumes are agreed, Dick Stead, Yodel's Executive Chairman told Tamebay today that every parcel on a next day service will arrive on time.
Whilst Yodel will maintain their service promise on next day at all times, their two-day and three-day services may have extended delivery windows over critical Christmas trading days.
Yodel's Black Friday Consumer Research
Yodel have carried out consumer research which shows that nearly four times the number of shoppers are planning to place an order online this Black Friday (27th November), compared to last year. In 2014 the success of Black Friday was as much of a surprise to retailers as it was to shoppers, but this year consumers are switched on and (if retailer's websites can handle the traffic) will be keener than ever to spend on the biggest shopping day of the year.
Only 8% of the shoppers surveyed placed an online order on Black Friday 2014, 30% said that they will participate in the internet promotions this year.
With a finite next day delivery capacity in the parcel industry, a simple and cost effective solution may be that more than three quarters of the shoppers surveyed said that they are happy to wait a little longer for orders placed on Back Friday, as long as they're kept informed about progress. In fact over a quarter of respondents said they would be happy if their order took an extra three days during seasonal sales and 28% would wait an extra two days. Just a fifth would only wait one day extra and only 13% said they wouldn't be prepared to wait at all.
Spreading deliveries at this time would automatically smooth the dramatic peak in parcels and create more capacity. For those customers who just can't wait, approaching half (44%) said they would be willing to pay more for next-day delivery for orders placed on Black Friday.
The Black Friday solution for Yodel's retail customers
If you use Yodel to deliver your products then all you need do to ensure you can meet your customer's expectations this year is to accurately predict the volumes you'll be sending over the peak holiday selling days. Previously you may have forecast on a weekly or even monthly basis, this year you'll need to forecast daily volumes – shipping half a months worth of forecast in one day just doesn't work if every retailer does the same.
The result of holding customers to agreed next day volumes is that if large retailers massively underestimate Yodel will throttle parcels accepted into their network. This means that smaller retailers will not suddenly find Yodel aren't collecting parcels until the backlog is cleared and that's how Dick Stead is able to promise to maintain Yodel's next day service at all times this Christmas.
Set customer expectations
You should also consider setting customer expectations by specifying extended despatch times and slower delivery methods. Buyers on Black Friday are often (but not always) buying Christmas presents and they don't actually need to receive them next day – there'll still be three weeks before Christmas day.
Additionally when consumers are bagging a bargain they don't necessarily expect premium service – if they're getting a deal they'll probably be more than willing to wait up to a week to receive their purchase so long as that's clearly spelt out up front.
What you need to know if you use third party shipping solutions
If you ship through third parties such as Parcel2Go, DespatchBay or PayPerParcel make sure that you know what their arrangements with Yodel are.
Similarly if you use a fulfilment house then you'll be reliant on them agreeing accurate shipping volumes if they use Yodel to deliver your parcels.
Unless you have a direct contract then Yodel won't have your sales forecasts and your next day despatches may not fall under their delivery promise.
Tamebay Comment
Dick Stead at Yodel speaks a lot of sense when he says couriers simply don't have infinite capacity and if volumes on Black Friday grow at predicted rates it's simply not possible to deliver everything the next business day. Additionally retailers who insist on shipping with next day delivery are putting unnecessary stress on their own internal warehouse operations by trying to get everything out of the door the day it sells.
It makes a lot of sense to spread the peak sales out over the following week. Retailers will still be able to fulfil orders for those customers who need a more urgent delivery but that should be at a premium price with the customer paying a premium for next day delivery.
Setting an expectation of a slower delivery makes everyone's lives less stressful at Christmas – consumers know they will receive the gifts they've purchased in plenty of time for the big day, couriers can spread out the deliveries whilst maintaining their next day promise for those who really need it, and retailers can spread the strain on their warehouse making their own lives easier.