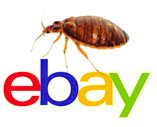 We're hearing from an increasing number of Virgin Media customers that pages are timing out on eBay on a regular basis. This has apparently been occurring since Thursday last week.
We are pretty sure that eBay isn't down (at least we're able to access it) but we're not Virgin customers. We've also not had any emails from eBay users who don't use Virgin Media.
From what we understand Virgin Media say that they don't have any problems so it must be an eBay fault, whilst eBay are saying that they also don't have any problems so it must be a Virgin Media issue. As it's only Virgin Media customers who are complaining it seems likely that it's a caching or routing issue.
If (and I say "if" as we've no confirmation), it's an issue with DNS (Domain Name Servers) and you're slightly technical changing your DNS servers to anyone other than Virgin Media's and then flushing your DNS cache may help
If you can shed any light on the situation we'd love to hear from you.