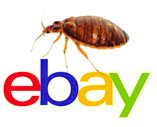 eBay have having a few problems this morning, with readers reporting that the site has been unresponsive overnight giving slow access to the site. Sellers are telling us that they're unable to process orders.
We're also hearing that eBay's glitches may be impacting third party management platforms who rely on eBay's API to keep stock levels updated and download orders from eBay.
While there's no official notice on eBay's announcement board, eBay have posted the following on their Facebook page:
"We are aware that some users are experiencing slowness or loading issues when accessing certain parts of our site. Our teams are working urgently to address these issues. Our highest priority is our members' trading success. We understand that this issue has also resulted in some customers having difficulty contacting our customer service teams. We apologize for any inconvenience this interruption may have causesd. We will share additional information with our community as it becomes available".
Edited to add:
We've just heard from eBay who have told us "We have resolved a networking error that was causing some customers to experience slowness or loading issues when access certain parts of the eBay site. This has been fully resolved and we apologise for the inconvenience this may have caused".