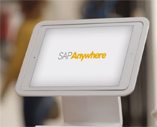 If you're in the market for a new website, then you should book your place for Internet Retailing Expo (IRX) as SAP have announced that they'll present their new SAP Anywhere product suitable for small businesses.
You've probably heard of SAP and think big corporate with massive budgets, but SAP Anywhere has been designed specifically to help meet the dynamic needs of small businesses. With its user-friendly digital tools, small and medium-size retailers will be able to easily manage and grow their business with the all-in-one software.
The solution incorporates user-friendly digital tools that manage e-commerce, marketing, customer engagement, inventory management and business analytics, from any mobile device or computer.
In addition, SAP counts on Google, PayPal and UPS amongst their partners who directly integrate their platforms into SAP's solution. In other words, users of SAP Anywhere will be able to use a payment system like PayPal and Google's productivity and collaboration tools from this one solution.
Demos highlighting the performance and collaboration of the technology from SAP and its partners will be presented at IRX at stand D31.