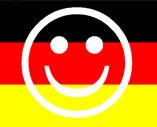 Andrew Rushbury is the e-commerce manager at Internet Ink, a manufacturer and retailer of high quality compatible printer cartridges. Internet Ink, as well as offering free delivery within the UK, naturally sell overseas. From all their vast selling experience, Andrew has one very simple pricing tip which I've not heard before so thought it worth sharing:
Placing the euro sign after the price does better in Germany, so use 49€ instead of €49.
This might be a very small change to make and seem almost insignificant, but as Willy Brandt, a former German Chancellor, once said "If I'm selling to you, I speak your language. If I'm buying, dann müssen Sie Deutsch sprechen".