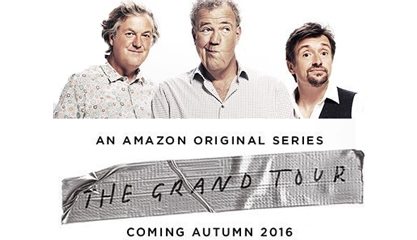 The old Top Gear team, Jeremy Clarkson, Richard Hammond & James May have chosen a name for their new show, because they are taking their new Amazon Prime show around the world, they have decided it will be called: The Grand Tour.
"Thing is," said Jeremy Clarkson, "We'll be travelling the world hosting each episode in a different country, from a giant tent. It's a sort of 'grand tour,' if you like. So we've decided to call it 'The Grand Tour.'"
James May admitted to being underwhelmed by the name. "I wanted to call it 'Nigel,' or 'Roger.' We needed a name, and they're names."
Richard Hammond was more positive. "I already love camping, but this is something else. We are like our pioneering and prospecting forebears, sallying forth into a new frontier of broadcasting, and making our home where…" But at this point Clarkson and May strangled him with a guy rope.
The Amazon Prime show will feature short films shot in different locations around the globe and the studio audience portion of the showcase will also take place at a different location around the world every week. The pre-recorded studio sections of the program will be filmed in front of a live audience, all housed within a giant tent.
This is likely to be Amazon's most anticipated Prime Original show and they're spending big money on it. Clarkson, Hammond and May have huge advantages over the new Top Gear team, not only are they mates with on screen chemistry (unlike Chris Evans who it's rumoured doesn't get on with his Top Gear co-presenters) but they also have the experience of working together and for them it's business as usual.
Would you sign up for Amazon Prime just to watch The Grand Tour? Some will, but it'll certainly attract a committed following from those that loved Top Gear and already have an Amazon Prime membership.