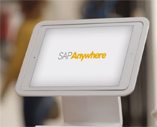 SAP Anywhere is now available in the United States. This new front-office cloud solution, which showcased at IRX this year, is specifically designed to help meet the e-commerce and customer interaction needs of small businesses with 10 to 200 employees.
You've probably heard of SAP and think big corporate with massive budgets, but SAP Anywhere has been designed specifically to help meet the dynamic needs of small businesses. With its user-friendly digital tools, small and medium-size retailers will be able to easily manage and grow their business with the all-in-one software.
With SAP Anywhere, small and medium business can capitalize on retail store sales, build a website or online store, create marketing campaigns, sell products and take payments, manage inventory and analyze business performance. SAP Anywhere gives small businesses the power to do it all from a mobile phone or tablet.
SAP has teamed up with Google and PayPal to offer small business leaders everything they need in a single package that directly integrates with partners' platforms. Users of SAP Anywhere have one solution through which they can access complementary services. It is also planned to integrate global shipping and logistics services provided by UPS.