eBay Prime Day Marketing, to counter Amazon's unoffical sales day, is in full swing with the double pronged attack of no membership fees to pay and plenty of cracking deals at prices that can't be beaten.
With the key message "We Don't Do Memberships. We Do Deals", eBay are highlighting deals which are conveniently priced at exactly the same value as an Amazon Prime Day Deal:
In the UK, it's a set of three Google Home Minis for £79 – the same as an Amazon UK Prime Subscription. In the US it's over 100 deals for $119, the cost of an Amazon US Prime Subscription. These of course are just the headline deals – there are thousands more across both the US and the UK site.
It's too early to know numbers as Amazon Prime Day only kicked off in the UK at midday, but by the end of the week we should have a cleared idea as to whether eBay Prime Day Marketing dampened Prime Day for Amazon, or if it simply boosted the entire deals hype.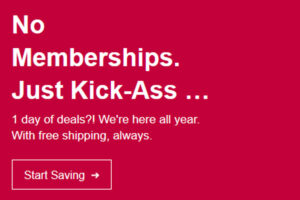 It's possible that rather than attacking Amazon Prime Day all eBay will have done is firmly cement a new shopping extravaganza in the calendar along with other retailers also holding sales today. The problem with that is that eBay will get customers who don't want to pay a membership subscription, but they are then forever in the cycle of promoting deals on the day that's named after their arch rival's shipping service.
If eBay repeat the deals in 2019 on Amazon Prime Day, which there's every expectation that they will, then it may be time for eBay to actually rename Prime Day to something not associated with Amazon.