PicClick is a site which enables you to search visually on eBay. It's way faster than eBay search and returns an infinite scrolling page of images in seconds. Rather than a list or gallery view on eBay itself, it enable users to scan hundreds of search results allowing the eye to be drawn to items of interest.
PicClick supports multiple eBay sites, is fast, slick, mobile friendly and still allows you to buy on the world's favourite marketplace but with a much improved and updated visual search.
Known for buyers and attracting 20 million unique visits a month, PicClick is loved by buyers for having a much faster load time than eBay and being much quicker to use, but what they're less well known for is their research capabilities for sellers so we asked Ryan Sit, CEO of PicClick to tell us more.
Why PicClick?
Humans can search visually much faster. PicClick leverages this human physiological advantage by optimizing our entire website for visual browsing. PicClick.com makes it easier to see thousands of products by showing all the products in a thumbnail gallery. On top of that PicClick adds:
Full screen support so thumbnails fill the entire window
Zoom slider so you can resize all thumbnails bigger or smaller
Infinite scroll so you don't need to stop and click to the next page
HD/Retina images, so all image details are immediately clear
Horizontal scroll product gallery, so you can see all the larger product images instantly
In addition to visual browsing features we also don't have any banner ads to distract you, and our website loads super fast. In fact our webpages load up to 3x faster than eBay.com itself. PicClick also supports all major international sites including picclick.co.uk, picclick.de, picclick.fr, picclick.ca. Plus PicClick includes all the filters and sorts that you are use to on eBay.
What is the most popular research feature?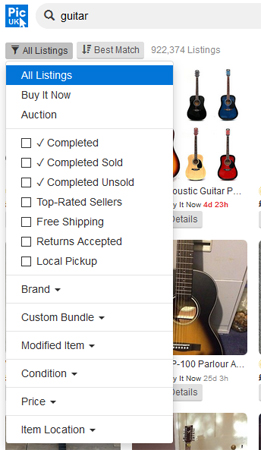 The feature which gets most usage is viewing completed items and completed sold items along with data revealing which products sold well. With a thumbnail size slider, infinite scroll, PicClick's visual search is much faster than on the eBay site itself enabling sellers to zero in on similar items and discover sales history.
Visual search is exceptionally useful for items where there are a lot of one offs which might be described simliarly. The ability to scroll through a lot of data. speeds up seller research than on eBay itself.
Naturally, basic information such as drilling down by category and filters including attributes and most bids/most watched are instantly available. You can also hover over any eBay listing image on PicClick and can see how many images the listing had and scroll through the thumbnails.
PicClick Item Research
When you click on any item in PicClick search results, below the item you'll discover similar items – up to 50 items but ordered according to similarity so first item will be most matched result. This enables you to instantly find and compare other products on eBay.
PicClick Insights
PicClick Insights offer a quick view of popularity, views views per day, and view count compared to 50 similar items.

More in depth graphical information is available by clicking 'more' for each insight.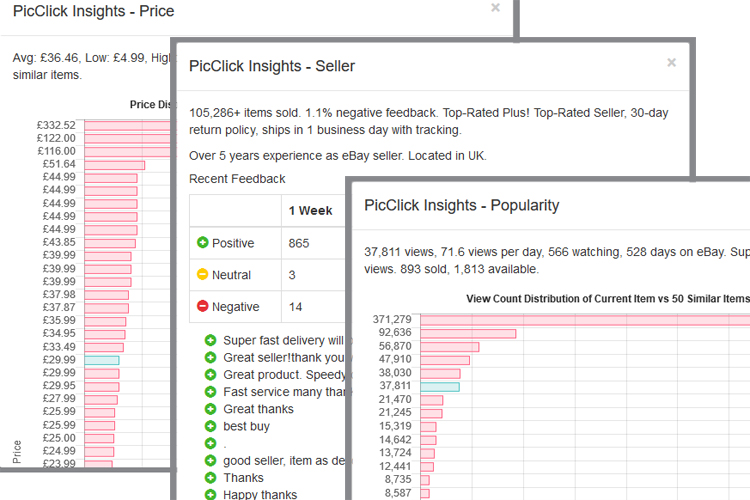 PicClick for Amazon
PicClick have started to build out tools for Amazon and currently you can instantly find similar listings on their marketplace to compare.
Saved searches on PicClick
When you open an account, PicClick will display recent searches on their home page (and in the history dropdown in search bar) as a feed enabling you to easily see if there are new products in the searches. If you log in, PicClick will also pull in recent searches and your watch list from eBay – it's a much better experience for viewing your saves searches than on eBay itself.
Try PicClick today
PicClick is totally free to use, so navigate to PicClick.co.uk to give their features a try.