With close to £2.36 trillion in global retail ecommerce sales in 2018, it's no surprise that the number of people selling online is on the rise, says new The Global Seller Index by Payoneer. This trend is increasingly fueled by the success stories of merchants starting their businesses from their garage to turning over six figures business. However, with so many growth opportunities on marketplaces, which demographic sees the most success?
The quarterly report surveyed 100,000 sellers trading on international marketplaces to understand developing trends and shifts in the seller location, age and sales.
Young sellers jump on the marketplaces bandwagon
According to the report, sales on international marketplaces hiked by 26%, compared to the first quarter of 2018. It attributes the rise of sales to the increasing number of young people joining the marketplaces.
International marketplaces saw a 101% growth of 18-24-year-old sellers (Gen Z) from Q1 of 2018 to Q1 of 2019. The 25-35 age group (Millennials) saw the second biggest spike in the number of sellers at 35%.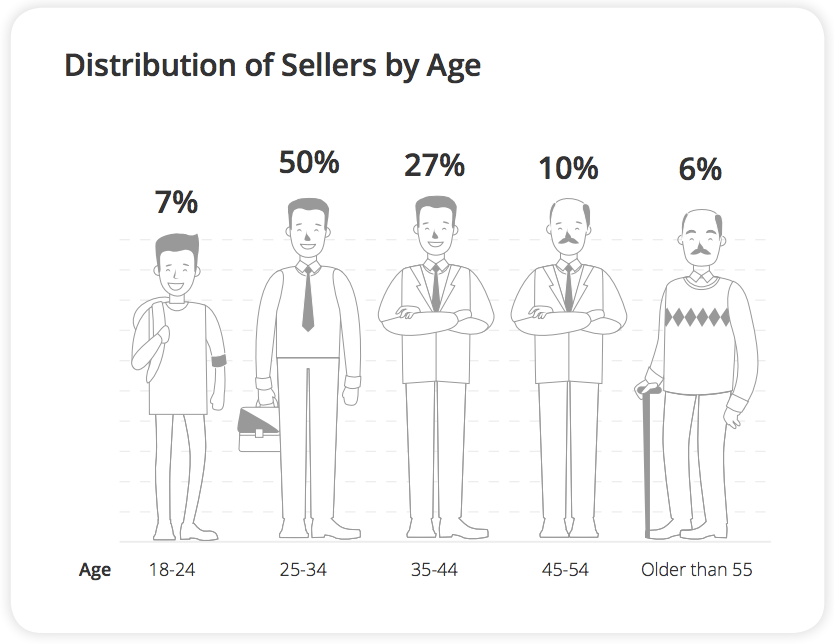 Millennials see more sales but Gen X leads
As in previous quarters, half of all sellers fell into the 25-34 age bracket in the first quarter of 2019. Collectively, they were responsible for 46% of total sales. The next largest age group was the 35-44 bracket, followed by 45-54, 18-24, and finally ages 55+.
The report says that sellers in the 35-44 age bracket (Gen X) were the only age group with a significantly larger sales percentage compared to their actual representation in the overall seller population. Some 27% of merchants fell into this age group, and they generated 34% of sales in the first quarter of 2019. This means that Gen X is collecting more sales compared to their Millennials counterparts.
The 45-54 age group also saw a higher percentage of sales relative to their actual numbers, although to a much smaller degree. The 9% of sellers in this demographic were responsible for 11% of total sales for the quarter.
Sellers start young but older generation see more success
Although the number of younger sellers is on the rise, it's interesting to note that their sales aren't succeeding at the same rate. While the number of sellers in the 18-24 age group may have doubled year over year, their total sales were "only" up by 66%.
In contrast, the 55+ age group is growing at a slower rate than the younger age groups (27%), but its sales are increasing more rapidly. Sales growth from Q1 of 2018 to Q1 of 2019 was an impressive 54%. This means that the sellers in this age range come to the table with more experience and expertise.
This news highlight that trading experience is vital to succeeding on marketplaces. Older sellers have competitive advantages such as the experience, capital and expertise over younger merchants. However, will we see Millenials soon catching up with their older counterparts?