For many years, Webinterpret has supported merchants selling on marketplaces. Now they've spun out a new company, Glopal, to assist merchants to internationalise selling on their own website to maximise the marketing opportunities that come from Google Shopping.
We spoke to Glopal's CMO and CPO, Herbert Knibiehly, to get the first interview on the new offering, what it can do for you, how much it costs, and where to get started:
Who are Glopal and what does the service offer?
Glopal is a new ecommerce SaaS company that connects millions of buyers and merchants around the world, unlocking cross border trade. By providing advanced international Google Shopping solutions, Glopal enables retailers to grow their business globally.
Following the success of it's Google Shopping solution with its customers over the last year, Webinterpret, the leading localisation solution for marketplaces, launched Glopal as a spin off company to further develop its market leading solution to grow international sales through google shopping.

What does Glopal do?
Glopal offers a suite of automated localisation solutions that enable retailers to quickly launch their stores across international markets and promote their products to new audiences with Google Shopping Ads.
The solution localises the retailer's store, translating the product feeds into the language and currency of the new markets, providing buyers with the same local experience they'd expect and allowing retailers to sell in any google shopping enabled market across the globe.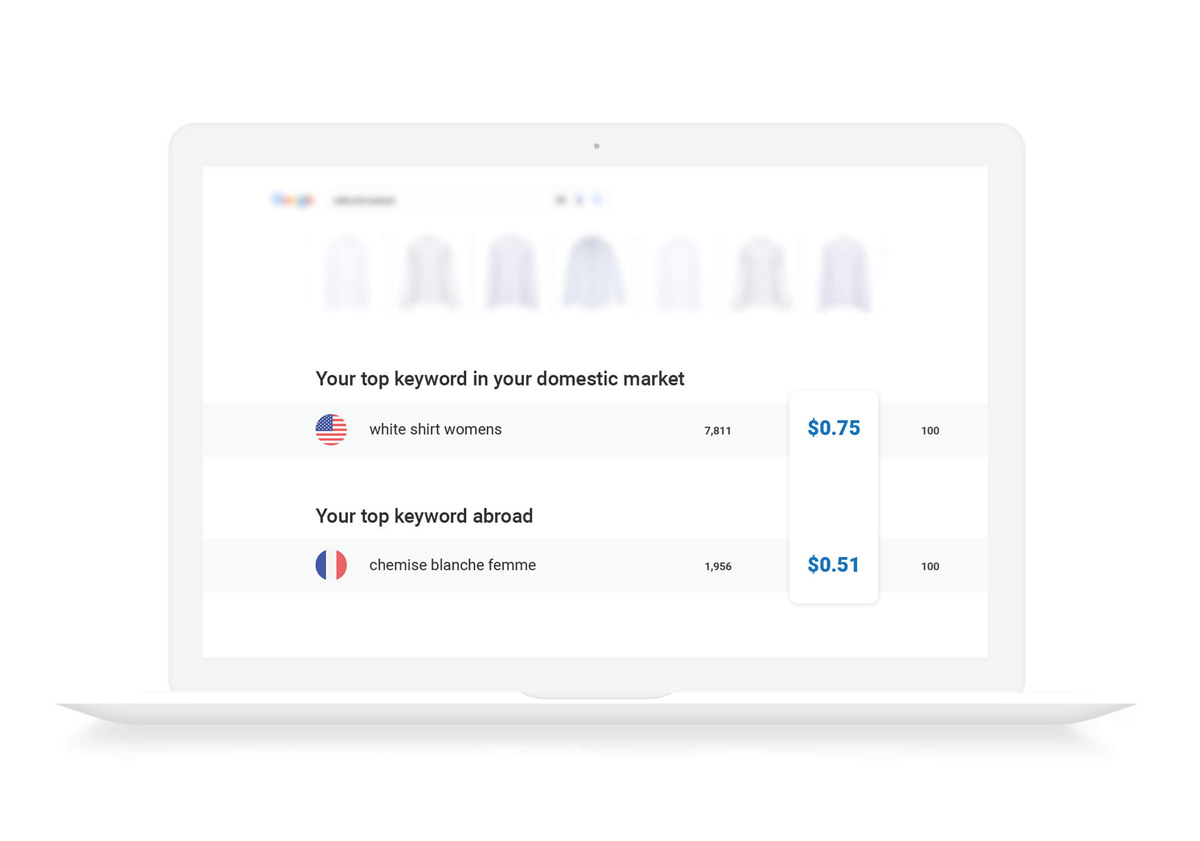 Through Glopal's smart SEA algorithms, the top keywords for each product in each selected international market is pinpointed, providing a higher conversion rate with a lower cost per click and offering a better return on ad spend for international campaigns. Additionally, retailers' stores are indexed for international SEO, increasing the websites traffic organically.


Glopal's international shipping creates a seamless and simple process, enabling merchants to ship their products overseas at a cost effective rate, as well as offering tax and duty calculations and global returns to create a truly localised buyer experience.
What potential increase in business should a merchant expect?
Google Shopping is a popular buyer tool in many countries but UK is very competitive. Other european countries can have Cost Per Clicks that are 5 to 7 times cheaper than the UK. Glopal offers easy access to those markets with a fully automated solution. Merchants will also find that they gain access to new buyers that they wouldn't have had before.
On average Glopal's customers see a sales increase of 32% within 30 days through international shopping campaigns. Within the first 3 months, merchants see not only consistent international sales growth through their google shopping, but also an increase in organic traffic to their website and greater global brand exposure.
Case study: PriceRightHome
Started in 2004, PriceRightHome is a leading online retailer of bedroom accessories and kids bedding. They first started using Webinterpret 7 years ago with their eBay localisation solution which was responsible for a lot of their international growth.
The company decided to launch their Magento online store internationally and installed Glopal's translation and Google Shopping solution. They now sell their products in 10 different markets, with their international sales growing by 130% after their first 3 months.
"After signing up to Glopal, our shopping campaigns almost immediately saw an uplift in sales, where our international sales went from being 5% to 50% of our total sales."
– Russel Deamer, PriceRightHome
What services do you provide?
Glopal provides a Plug & Play "End-to-End" solution to enable retailers and brands to sell internationally:
International Marketing : drive multi-channel traffic through Google Shopping Ads & International SEO.
Localisation : website translation & currency conversion
International payment : via credit cards, Paypal and more in 25 currencies.
International shipping : shipping to 100 countries, tax & duty calculation and global returns.
What type of merchant should be interested?
Glopal's ecommerce solution is tailored for sellers of any size. It currently integrates with:
Magento
Shopify
Bigcommerce
Whether it's small sellers who want to begin their international journey, or large retailers who need to expand their international strategy, this solution is created to enable merchants to grow their international sales through Google Shopping Ads.
What does Glopal cost?
Glopal's pricing model is simple and easy-to-understand. We do have a "Free forever" plan that enables full access to our Google Shopping solution as well as a "Pro" plan with custom features for advanced merchants:
Free Plan : £0 per month

Google Shopping feed localisation
Fully managed international campaigns
Localized store
Localized checkout
International shipping

Pro Plan : 5% commission + £99 per month

All free features
Custom market selection
Custom international shipping
Account manager
For Tamebay readers we are offering a free analysis to discover your online store's Shopping Ads international sales potential to help you determine what the best possible markets are for your store.
Our tool takes your store's top products and generates a personalised report, identifying the best international markets with the highest sales potential for your store.
To take advantage of the Google Shopping analysis tool or contact us to book your free audit or your international potential.
Learn more on our website: merchants.glopal.com