Join Hubert Kaszuba as he talks about how you how to turn your passion for gaming into business with G2A.COM
It's been a long journey for gamers and geeks. From what was initially considered a short-term fad, gaming has evolved into a significant branch of the global consumer industry. With an entire generation growing up alongside gaming, the sector has matured from a few maverick developers breaking barriers in basement offices to multinational, multibillion-dollar corporations.
The path that started from the cartridge of the first Mario game – which now feels like it was launched in ancient history – has evolved into the modern gaming experience, typified by the ability to buy games and hardware online through places such as our own G2A Marketplace.
As a 90s gamer, the prospect of being able to access my favourite gaming titles online felt like nothing more than sci-fi. However, as technology has developed online marketplaces, the ethos of the community has remained: it's made by gamers, for gamers.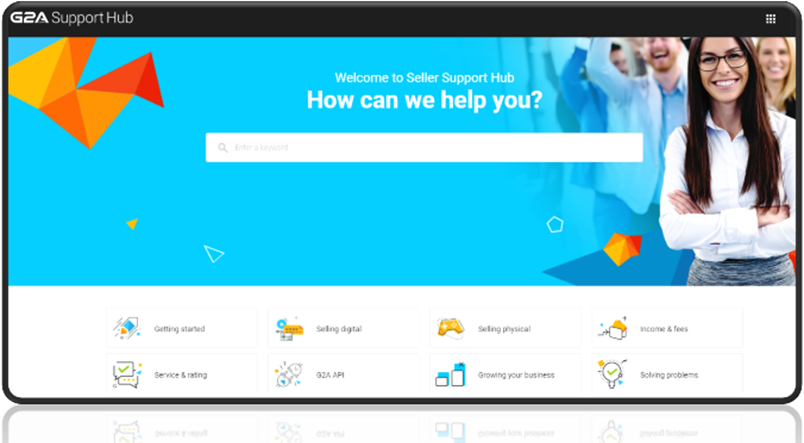 As the gaming sector has developed, its marketplaces have had to keep up the pace to match the engagement and innovation being shown in the latest titles. At G2A.COM, we have encouraged our users to grow alongside us and turn their gaming passion into a business.
From gaming titles to electronics, board games, accessories and everything inbetween, our marketplace offers everything that could possibly interest our 20-million-strong customer base of gamers and geeks. The sellers began as we all did – as gamers – before signing up to sell keys, hardware and accessories. But how can someone make the same transition?
Getting Started
For beginners, it is first worth visiting our G2A Seller Support Hub to learn how to sell on G2A. This will provide the most basic facts for new sellers to understand the process before getting started. Then, it's time to decide the sort of products that they would like to sell on G2A.COM.
Selling Digital
Let's start with selling digital products. First thing's first, once an account has been registered, all new sellers are required to fill in our Seller Verification form. At G2A.COM we care a lot about security – and eliminating risk of scam – so this is a vital stage in ensuring our marketplace is a safe, legal place to shop.
Once an account is verified, we can start selling digital products. Sellers can input the title of their product, the unused key or gift code, and then determine the price. We can discuss more about pricing a little later.
Once the product is live, we need to think about handling buyer offers. A standard offer is available for 14 days however, if sellers enable the Auto renew option and there are keys left after 14 days, their offer will be automatically renewed. If they don't, the offer will expire, and they will have to renew it manually. G2A.COM charges €0.15 per each 10 not sold/still active keys in the renewed offer.
Digital sales are available to all G2A sellers – whether individual or business accounts – however the former is limited to €1,000 in sales. If sellers would like to move into a new realm, by selling physical gaming gear or selling digital games without limit, they will have to upgrade to a business account.
Selling Physical Products
G2A.COM allows all sellers to upgrade to a business account whenever they wish. So, if an individual account has taken a shine to our marketplace and start to approach their €1,000 limit, they need not worry.
Users will need to provide the relevant information to go through our business verification processes – including a shipping template, financial information and identity of sole trader – before they're ready to start selling their gaming gear.
On G2A.COM, the process of selling physical products couldn't be easier. With our pre-defined categories, sellers simply need to select a Category, Subcategory and Product Type before selecting a price, quantity and specification details. To add that further touch of detail to their listing, sellers can also add product variants such as colour and storage, as well as adding imagery and a description to attract their buyers.
Finally, sellers simply need to add shipping details – with the option of sending their products across the EU and the UK – and they're ready to start selling!
Selling Fees and Income
Whenever a user buys a product from a seller on G2A.COM, their income is automatically assigned to their G2A balance. Sellers can monitor their money flow through their G2A.COM dashboard and receive more detailed reports whenever they need an extra layer of analysis for their transactional activity on the marketplace
Sellers can also access all the information they need on balance deductions, such as selling fees or customer refunds, whenever they need. The G2A Marketplace is a completely transparent platform; nothing is hidden from our sellers.
Naturally – as is standard practise on e-commerce marketplaces – there are some small deductions and commission fees that we take per transaction. We always recommend taking a look at the selling costs in our Table of Fees and Commissions on the G2A Marketplace before getting started.
We like to welcome new sellers to our platform one month free of selling fees. We believe that this is an ideal period for users to get started with their individual activity and grow accustomed to hour our marketplace operates. Once that period has expired, the general rates at which we calculate our commission fees per sale are 10.4% +€0.35 for digital and max. 8% +€0.35 for physical products. These are already included in the final prices. We also charge small fees for creating, updating and reposting offers.
While this may all sound a little complicated, the reality is that these fees are all automatically calculated when a seller goes to post an item, along with VAT, showing exactly how much income they will receive. Once the sale is made – and our 14-day processing period has passed – sellers will receive their income into their Total Available balance, ready for them to use. This money can either be withdrawn or used to pay on G2A.COM and partnered websites.
For those that want to reduce their commission fees, the rate can be greatly reduced by taking part in our Seller Supreme program. Through this initiative, sellers can enjoy lower commission fees and faster pay-out processing time the more they sell. This provides a gateway for sellers to scale up their business quickly and experience the benefits of using our platform more frequently.

Interacting with buyers
Of course, as with any transactional process, the customer experience is vitally important. On G2A.COM, sellers can freely correspond with buyers. It's especially helpful in resolving issues with product's activation, description or quality.
With our built-in Conversations tab, sellers can exchange messages with buyers and even take action if necessary If there is an issue with a product or digital key, for example, seller can issue suitable refunds or offer a replacement. Once an open case is solved, sellers can conclude the conversation with a request for the buyer to edit their original rating to a positive one or leave a rating, if it hasn't been done so far. Of course, there's also an alternative. As a seller, you're of course entitled to reject buyer requests if you see fit.
With this built-in system, there is no need for our sellers to use their own tools to stay on top of their customer interactions. On top of that, they can organise all their messages by time, category, order number and current status, among others to ensure buyers receive quick responses to their queries.
Our G2A.COM marketplace is designed for gamers to turn their passion into a business, and we are confident that we provide all the necessary tools and processes for our sellers to thrive in a secure environment.
From those mid-90s sessions on Nintendo 64 to making a full-time living on a digital marketplace, the world of gaming is never short of surprises. If you're interested in becoming part of this journey, please visit our website at G2A.COM .