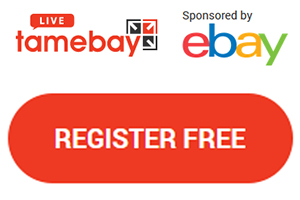 Tamebay Live kicks off this coming Monday, the 17th of May, and it's time to select which Tamebay Live Sessions you'd like to attend.
You'll find the full agenda below, and if you've registered a link will be winging it's way via email to you within the next 24 hours. You'll need to click the link to get full access to the Tamebay Live platform and then you'll be able to build your badge, select which Tamebay Live Sessions you want to attend live (you'll still be able to see any you missed after the event so long as you've registered). You'll also be able to arrange 1-to-1 meetings with speakers and exhibitors, visit over 30 industry showcases each with a ton of content you can download and view to help grow your business.
If you haven't registered yet, click HERE to register – it's free but it's the only way you'll get access to the full Tamebay Live platform and the masterclasses running throughout the week.
Tamebay Live Sessions
Monday 17th May – Back to Basics
| | |
| --- | --- |
| 09:45 | WELCOME AND INTRODUCTION WITH CHRIS DAWSON AND HURRICANE COMMERCE |
| 10:00 | MAKE MONEY SELLING ONLINE: HOW AND WHERE TO SOURCE STOCK THAT WILL WORK FOR YOU |
| 10:00 | HOW TO BUILD BRAND EQUITY WITHOUT OWNING THE CUSTOMER RELATIONSHIP |
| 11:05 | HOW TO STAND OUT FROM THE CROWD WITH EBAY PROMOTED LISTINGS |
| 11:05 | BEST PRACTICES FOR STREAMLINING YOUR ECOMMERCE OPERATIONS |
| 13:30 | LISTING ON EBAY BEST PRACTICE |
Tuesday 18th May – Growth Day
| | |
| --- | --- |
| 09:45 | WELCOME AND INTRODUCTION WITH CHRIS DAWSON AND ECOMMOTORS POWERED BY E-MOTIVE AND VOLO CO-HOST |
| 10:00 | STAY AHEAD IN 2021: THE SECRETS TO EFFECTIVELY ADVERTISE ON AMAZON AND EBAY |
| 10:00 | HOW DATA AND MARKETPLACE SEARCH WORK |
| 11:05 | SCALE YOUR BUSINESS WITH SEAMLESS FULFILMENT AND SHIPPING |
| 11:05 | HOW DISPLAY ADVERTISING IS WORKING HARDER FOR SELLERS ON EBAY |
| 13:30 | HOW TO MAKE YOUR CUSTOMERS LOVE YOU AND TURN INTO REPEAT BUYERS |
| 13:30 | AMAZON ADVERTISING: BEST PRACTICES, DO'S AND DON'TS WITH SPONSORED ADS |
| 14:35 | YOUR LONG TERM ECOMMERCE STRATEGY – A 'HOW TO' GUIDE |
Wednesday 19th May – Brand Day
| | |
| --- | --- |
| 09:45 | WELCOME AND INTRODUCTION WITH CHRIS DAWSON AND ECOMMOTORS POWERED BY E-MOTIVE AND VOLO CO-HOST |
| 10:00 | ARE YOU IN CONTROL OF YOUR BRAND ON MARKETPLACES? |
| 10:00 | EBAY'S NEW MARKETING & DATA TOOLS – CODED COUPONS |
| 11:05 | RETAIL DIPLOMACY – BALANCING D2C AND RETAIL CHANNELS |
| 11:05 | HOW TO SELL ON WISH |
| 13:30 | BRAND PROTECTION AND OTHER CRUCIAL REASONS TO CONSIDER AMAZON WITHIN YOUR CHANNEL MIX |
| 13:30 | THE AMAZON SELLER TRIVIA BY GETIDA – LEARN & WIN $500 |
| 14:35 | PRICING STRATEGY – SESSION WITH STOCKX |
Thursday 20th May – Cross Border Day
| | |
| --- | --- |
| 09:45 | WELCOME AND INTRODUCTION WITH CHRIS DAWSON AND GFS CO-HOST |
| 10:00 | BEST-PRACTICE DELIVERY AROUND THE WORLD FROM THE EXPERTS |
| 10:00 | HOW TO REACH AND RETAIN PROFITABILITY SELLING ON TMALL GLOBAL |
| 11:05 | ITEM SPECIFICS, ATTRIBUTES, BROWSE NODES & PRODUCT TYPES: UNDERSTANDING MARKETPLACE REQUIREMENTS TO EASILY DIVERSIFY YOUR BUSINESS … |
| 11:05 | MASTERING MARKETPLACES IN THE MIDDLE EAST |
| 13:30 | SELL YOUR PRODUCTS IN EUROPE WITH CDISCOUNT |
| 13:30 | HOW TO ACHIEVE BEST-IN-CLASS CROSS-BORDER ECOMMERCE IN 2021 AND BEYOND |
| 14:35 | THE WORLD IS A MARKETPLACE – MAKE IT YOURS. HOW TO START SELLING ON OVER 50 MARKETPLACES WITHIN JUST A FEW WEEKS |
| 14:35 | OPPORTUNITIES AND LISTING ON OVERSEAS MARKETPLACES |
| 15:40 | FINANCING YOUR GLOBAL BUSINESS |
Friday 21st May – Expanding Marketplace Business
| | |
| --- | --- |
| 09:45 | WELCOME AND INTRODUCTION WITH CHRIS DAWSON AND SHIPSTATION CO-HOST |
| 10:00 | WHERE TO NEXT FOR MARKETPLACES? HOW A TOTAL COMMERCE APPROACH CAN TAKE YOUR BUSINESS TO THE NEXT LEVEL |
| 10:00 | MARKETPLACES: THE DEFINITIVE ROADMAP FOR DEPLOYING THE NEXT GENERATION OF ECOMMERCE |
| 11:05 | BUILDING VALUE – YOUR FUTURE EXIT STRATEGY |
| 11:05 | TAX REFORMS & THE IMPACT ON ONLINE MARKETPLACES |
| 13:30 | GOOGLE CAMPAIGNS MASTERCLASS |
| 14:35 | GROWING YOUR BUSINESS WITH FULFILMENT |
| 15:40 | BUILDING A PANDEMIC ECOMMERCE EXIT STRATEGY – WHAT'S NEXT? |