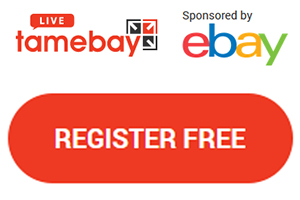 Tamebay Live for Brands like yours is an unmissable program regardless of whether you already sell on marketplaces or not. From the 17th to 21st of May, we'll be taking a look at how to protect your brand reputation, work with retailer partners or adopt a D2C strategy, and look at how Google can be a friend (with shopping) or a challenge (with the death of the cookie). 'How to get your products in front of shoppers when they are ready to buy' will be the theme.
It's likely your products are already being sold on marketplaces, so Tamebay Live Masterclasses & Workshops will bring you the expertise and knowledge to protect your brand, discover PIM tools, manage the consumer experience and either manage your marketplace retail partners or embrace a D2C strategy.
You'll need to register to attend Tamebay Live for Brands, and all the content will be available after the week so that you can watch again at leisure for all registered businesses.
Tamebay Live for Brands
On Day 1, you'll learn how to build brand equity without owning the customer relationship with eDesk. Then Ordoro will present three strategies ecommerce businesses can use to scale their order fulfillment operations – in-house fulfillment, 3PL fulfillment, and dropshipping.
Tamebay Live Day 2 will bring you the Secrets to Effectively Advertise on Amazon and eBay from ChannelAdvisor. Then in an unmissable session, eBay will discuss how the death of the cookie and an even greater focus on brands and sellers has reinvigorated advertising solutions on eBay. From richer targeting solutions and access to more powerful insights to advertising placements reserved solely for sellers, eBay reveals what's coming next. The day will wrap with an inteview with Tony Kyberd of ecommotors and Volo who will present very recent research into the barriers to long term ecommerce growth during what is an increasingly uncertain and turbulent era. We'll talk about ecommerce priorities, what we've seen work well and what a success plan looks like.
Andrew Rowson of ecommotors and E-Motive will open Day 3 to discuss what brand control really means, how it works on the key marketplaces, the benefits that follow and how to make it happen for your business. ChannelAdvisor will follow to explore Retail Diplomacy – how to balance D2C and Retail Channels in a session designed to help Brands create a diplomatic approach to D2C. In the afternoon Patten will explore Brand protection and other crucial reasons to consider Amazon within your channel mix and how to define the role of marketplaces for your brand to maximise incremental sales.
On Thursday, Day 4 of Tamebay Live, Pattern will take a look at how to reach and retain profitability selling on Tmall Global with real data and insights into how they get results for the brands they partner with. Then Pattern will look at how brands can launch and optimise their performance on Amazon and Noon in the UAE and Saudi Arabia to convert the region's affluent customer base. In the afternoon you'll hear from Cdiscount and the opportunity for your brand in France.
Finally on Friday, VTEX will set out the definitive roadmap for deploying the next generation of ecommerce and give you deep understanding of the key items to address as you plan and launch your own online marketplace; how to make the most of your marketplace launch; and how to position your marketplace for ongoing success. Google are eDesk's guest speaker in the afternoon where you'll learn tips and tricks to get your products in front of ready-to-buy shoppers whether they're at home, on mobile or in the shop. The week will close with TrueCommerce taking a look at building a pandemic ecommerce exit strategy. Whilst many quickly pivoted their operations when the pandemic hit, ramping up their online presence with new or additional marketplace listings, many did so with no long term strategy in mind. So what's next?