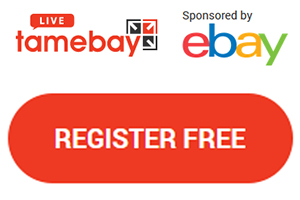 With over 50 presenters throughout the week, Tamebay Live speakers come from some of the biggest businesses in the ecommerce world.
eBay is our title sponsor and you'll also find speakers from Wish, StockX, OnBuy, and Google, plus we'll be looking at Alibaba, noon, OnBuy and Amazon throughout the week.
Tamebay Live starts this coming Monday, the 17th of May, so register today for free access to the Tamebay Live platform.
With thanks to our title sponsor eBay
eBay are running three sessions which you won't want to miss focusing on Promoted Listings, Advertising and Coded Coupons. Check out the Tamebay Live agenda for their sessions.

Tamebay Live Day Hosts
With two streams running on each day of Tamebay Live, I'm thrilled to now introduce our co-hosts for the week from Hurricane, ecommotors, GFS and ShipStation. They will be introducing some of the Tamebay Live Speakers and putting questions directly from you to them live at the end of each presentation. If you want a question asked make sure you are registered and log in for the sessions you want to attend.
During the week you'll meet Martyn and Bram from Hurricane, Andrew from ecommotors, Bobbie from GFS and Andrew from ShipStation.

Tamebay Live Speakers
During the week you'll find Tamebay Live Speakers from the biggest names in ecommerce including multichannel management partners, couriers, retailers, and merchants. There are all massively experienced people covering just about every area of ecommerce so take full advantage not only to learn from their presentations but also to submit questions live during each session. If there's something you want to know then Tamebay Live is the place to get your answers.
As well as listening to the speakers live, you'll also be able to connect with them in the networking areas of Tamebay Live and many will have colleagues on hand throughout the week as well. They're not here to sell to you, they're here to assist so don't be afraid to make new connections and if there's someone you really want to speak to then drop past their Tamebay Live Showcase and you'll be able to contact them and their colleagues there at any time during the week.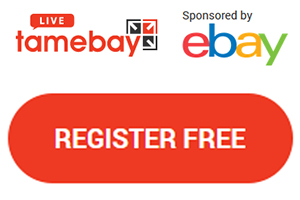 To hear from the Tamebay Live speakers, you must register to access the event. It's free, there's nothing to pay for anything during the week so click HERE and register now. Once registered you'll receive a link to build your own event on the Tamebay Live website to incorporate the masterclasses you want to attend and the 1-to-1 meetings with speakers and their colleagues.