Amazon failed to grow sales at their normal phenomenal rates as reported in the Amazon Q1 2019 Earnings report, with growth down to just 16.9%. However they turned in a mammoth $3.6 billion net income, massively more than their forecast in their own Q4 forecast of $2.3 billion and $3.3 billion.
Amazon may not be growing as fast as previously but their forecast of $56 billion and $60 billion sales (10% and 18%) compared to Q1 2018 came in on the high end of their own forecast at $59.7 billion representing year on year 16.9% growth. This is actually the lowest growth for Amazon for four years, the last quarter was 19.7% growth and after that you have to go all the way back to Q1 2015 when they grew 15.1% for a lower growth in Amazon sales.
An interesting metric is Amazon's fees from marketplace sellers which rose 23%. A couple of weeks ago in his annual letter to shareholders, Amazon CEO Jeff Bezos was at pains to point out that over a 20 year period merchant sales had grown at an annual compound rate of 52%. 23% for for the quarter is below that rate as is the year on year rate of 20%. Whilst these figures are for fees, not sales, it's fair to assume that sales aren't growing 2.5X the fees sellers pay which are by any measure significantly higher today that at any period over the past 20 years due to the addition of bundled services.
It's impossible not to want to compare Amazon's net income with eBay's and so we couldn't resist the temptation however unfair it might seem. While eBay saw modest growth compared to the same quarter a year ago, Amazon's ability to generate profits is immense in comparison.
Amazon also saw growth in Amazon Advertising (reported as 'Other') slow significantly to 36% growth in Q1 2019, the first quarter they've not seen an increase in revenue since Q1 2017 and the first time since they started reporting figures in Q1 2016 that growth hasn't been above 40% – run rate has been over 60% growth with three of the past five quarters seeing over 100% growth. Realistically however, any business unit that is generating $2.7 billion revenue in a quarter for what must be relatively low costs is phenomenal.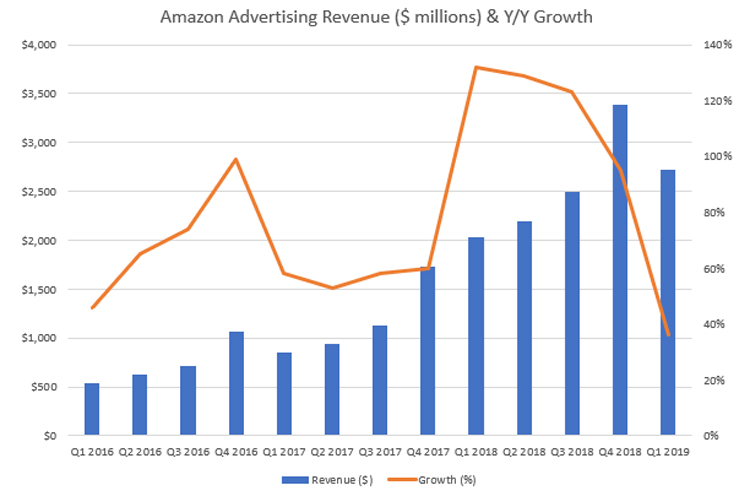 It's worth noting that while 'other' revenue grew 36%, and it is principally advertising, advertising grew a bit higher than that but Amazon still don't specifically break out advertising revenues as a separate metric.
Uninteresting to marketplace sellers, the star performer for Amazon was their AWS cloud computing sales which rocketed up 41% year on year although even that slowed from 49% last year.
Overall Amazon business growth slowed and they've pretty much done what eBay also announced that they would be doing – a slowing in total revenues but an increase in profits. The only difference with Amazon is that their increase in profits came in at a truly immense $3.6 billion net income compared to eBay's $608 million. Or to put it another way in the whole of 2018 eBay earned $2.53 billion net income and Amazon cleared more than that in a single quarter.
Did Amazon's Q1 2019 Earnings please investors? Their share price has stayed relatively static in after hours trading since their earnings report came out so at best you could say Investors were neither delighted nor spooked.
One might look at Amazon's slowing growth as a negative and certainly it's not going to drive the share price in the way that their recent 25%-40% growth rate did. Amazon has grown to such a scale however that 20+ growth rates will be increasingly difficult to attain – it's much easier to grow a small business at accelerated rates than it is to grow a large business and Amazon is now a very large business.
What Amazon's third party sellers will be watching closely is if Amazon try to extract even higher fees for sales, whether this be through services such as FBA (where it might actually be cheaper to let Amazon fulfil order) or through additional fees such as Amazon Advertising. Fees on all marketplaces are at record highs and at some point they may become to high to be sustainable for merchants.