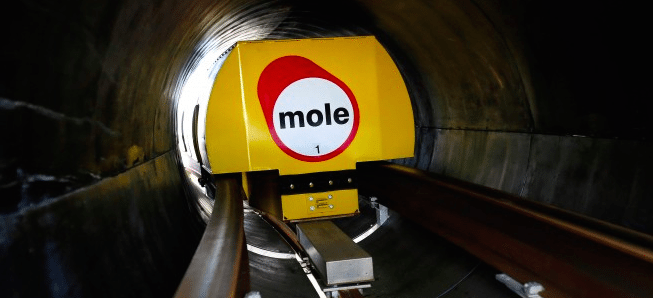 First I checked the date. But it's not an April fool. The future of ecommerce delivery and freight shipping within the UK could be Moles. Cambridge-based Mole Solutions is looking to pioneer a trial of the system in Northampton soon. The Moles are powered by electricity and run on a maglev basis and could eventually be part of an underground ecommerce delivery network.
It's headed up by Dr Roger Miles, who worked previously as a supply chain analyst at Esso, he says: "Clean water is taken into homes and dirty water is taken away and we never really see it, while huge amounts of oil and diesel are transported by pipes underground. Now we want to do something similar with freight, delivering goods to buildings and taking away waste. Congestion is a global issue and we could take a significant volume of traffic off the roads, not just in the UK but in countries like China and India. The bounds of this are limitless."
In some ways, the notion of these Moles makes a great deal of sense and there is a solid heritage of such systems being used most effectively. Indeed, it is perhaps ironic to think that the Post Office's own underground London railway which ran from Whitechapel to Paddington stopping along the way at key Royal Mail locations (including Mount Pleasant) was shut in 2003. The narrow gauge driverless tube trains shuttled mail across London just over 75 years.