It all began last week when 21 year old Aimi Jones from Oxford listed that ASOS yellow skater dress and attracted a little more attention than she bargained for. She was visible just at the edge of the picture, without her knickers on. It could happen to anyone.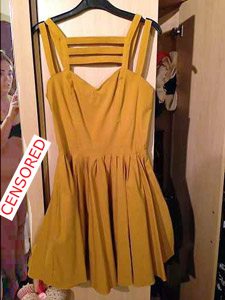 Aimi said to The Sun: "It's so embarrassing. It is such a dizzy, stupid thing to do and now the whole world's seen me in the nude. I put it on eBay last Saturday morning and realised straight away so ended the sale. But what I didn't realise was that people could still see it on the site. I reported it to eBay and they took it down, but by then it had gone viral. I've had messages from Australia and the US saying nice things but there are some nutters."
The incident has revived interest in reflectoporn. Both the Sun and the Daily Mail hav published compendia of reflectoporn favourites. Most of them are as old of the hills (one is at least a decade old from memory) and have likely been taken from Jenny How. Here's an old favourite.
With the reflectoporn renaissance, I think we can expect a slew of new gems. Keep 'em peeled and tell us what you spot doing the rounds. 🙂