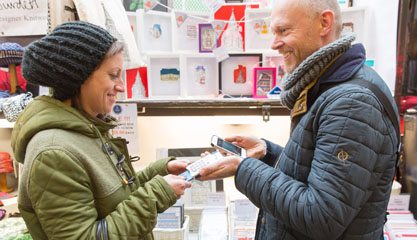 Thanks to PayPal Here, Shoppers at Covent Garden's Apple Market are now able to pay by card with all stall holders in the run up to Christmas. PayPal say that it's the first time in the market's 800-year history that traders have been able to accept digital payments from shoppers.
Adam Regester, market trader explained "For as long as I can remember, we've always relied on customers paying with cash or perhaps the odd cheque. But now I've lost count of how many times people ask to pay by card or say they'll just pop to the cash point but never come back. Giving our customers more options to pay and taking cards solves the problem, which is especially crucial in the run-up to Christmas. Even within these first few weeks, I've seen an increase in sales".
Covent Garden's Apple Market is open between 10am and 6pm, Tuesday to Sunday during December, and traders will be using PayPal Here throughout the Christmas shopping period. If you visit the market let us know how many traders you see taking card payments with PayPal.