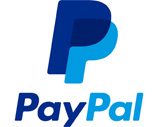 PayPal are updating their User Agreement, Acceptable Use Policy, and Privacy Policy to reflect the fact that they'll soon no longer belong to the eBay family of companies, but instead will operate as an unrelated organisation known as PayPal Holdings Inc.
They say "However, eBay and PayPal will continue to partner together to provide and further enhance the great experience you've always had when using PayPal to send or receive payments on eBay".
There are some things that you might like, for instance currently your PayPal agreement allows them (in Section 5.4) to swipe money from your PayPal account to settle any balances owed to eBay. The new policy will limit them digging into your account to "any such amounts you owe other members of the PayPal Group" and that will no longer include eBay. eBay will have to find some other method of recouping any fees or buyer refunds performed on your behalf.
However section 10.1.d is amended to ensure that PayPal can still place a temporary hold on your account to cover disputed transactions under eBay's resolution process.
There are quiet a few other changes in this PayPal T's and C's update. As always we recommend that you read them and ensure you know what you've signed up to (although we know most PayPal users won't and indeed haven't ever read the PayPal User Agreement anyway!).
The new agreements will become effective on the 1st of July 2015.