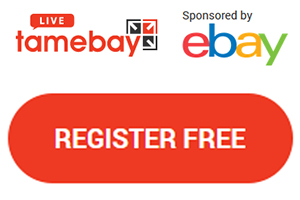 Tamebay Live will bring you speakers from the top 8 marketplaces in the world and this is an event that you can't afford to miss out on.
Brand owners: Learn how to protect your reputation on marketplaces and how to operate a D2C strategy
Retailers: Learn how to leverage marketplace platforms to maximise growth
Merchants: Learn how to accelerate your businesses and increase profits
Register for Tamebay Live today to hear from the top 8 marketplaces in the world! Tamebay Live will run from the 17th to 21st May 2021 and is free to attend. If you register now, you'll also be able to catch up on the masterclasses after the event.
eBay
Harmony Murphy GM Advertising UK, eBay
Register for Tamebay Live to discover how the death of the cookie and an even greater focus on brands and sellers has reinvigorated advertising solutions on eBay. From richer targeting solutions and access to more powerful insights to advertising placements reserved solely for sellers, eBay reveals what's coming next. Harmony will be joined by Sylvie Walker, Brand Partnerships Manager eBay and if you're serious about advertising on the Internet this is an unmissable session for brand owners.
Google
Jeroen Rutten, Strategic Product Partnership Manager, Google
Jeroen will join eDesk to present a Google Campaigns Masterclass. You'll learn how to get your products visible on Google and the very latest ways to help consumers shop with you.
Wish
Alan Small, Business Development Manager for Europe, Wish
Alan has over 9 years of experience in ecommerce, having launched his own online stores and a leading EU marketplace for students. He joined Wish in July 2020 to head up their Business Development team, responsible for your growth and success on Wish. A fast moving mobile focussed marketplace, especially popular with younger generations, if you're not already selling on Wish register for Tamebay Live as it's time to get started.
Alibaba – Tmall Global
Lara Jelowicki and Desiree Wong, Pattern
Success of Tmall Global needs expertise to achieve and there are none better than Pattern who will share real data and insights into how we get results for the brands we partner with, including case studies on Tmall Global launch campaigns, off-platform demand generation techniques, the impact of Livestreaming and Tmall's social selling platform Weitao, KOLs and other demand-generating partnerships, building a pricing and promotions strategy to maximise your 11.11 sales.
Cdiscount
Djamella Anfif, Head of Marketplace Partnerships, Cdiscount
As #1 French retailer with 24 million unique visitors per month, and 10 million active customers, if you want to sell in France you can't not sell on Cdiscount. Join 13,000 sellers who offer more than 100 million products and access fast and flexible home delivery in France, Belgium, Germany, Italy, Spain, Luxembourg, the Netherlands, Austria, Ireland, and Portugal and offer consumers click and collect from one of Cdiscount's thousands of pickup points in France.
StockX
Olivier Van Calster – VP, International and GM Europe, StockX
As VP International and GM for Europe, Olivier is driving expansion of StockX in the UK and Europe. This is a marketplace with a difference and you won't want to miss this opportunity to sell in-demand products with zero returns, zero questions from customers or customer support and you can sell at the click of a button!
Noon David Quaife, General Manager, MENA, Pattern
Join Tamebay Live to discover how brands can launch and optimise their performance on Amazon and Noon in the UAE and Saudi Arabia to convert the region's affluent customer base. This session will open a gateway to the Middle East and you'll how to create compelling offers for Amazon and Noon, and the marketing techniques that will drive traffic to your products.
Amazon
Sreenath Reddy, Co-Founder and CEO of Intentwise
If you're advertising on Amazon then this Tamebay Live session is where you'll learn the best practices and dos and don'ts for Sponsored Products and Sponsored Brands is for you.
Nicola Hollow, General Manager, Europe, Pattern
If you own a brand, Nicola will demonstrate why you can't ignore Amazon from a brand protection perspective, even if you don't currently sell on the platform. Amazon marketplace seller Pattern will be joined by some of the consumer brands they partner with, to explain their approach to brand protection and other reasons that the marketplace is being elevated within their channel mix.