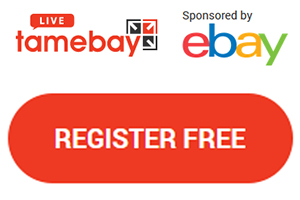 If you want to attend Tamebay Live in just two weeks time, then click here to register now for the week long series of masterclasses and workshops designed to propel your business to the next level.
There is a stellar line up of the best speakers in the industry waiting for those that attend Tamebay Live, and today we take a look at speakers from eBay. Tamebay Live is the first time you'll get live demos and strategies to use eBay's newest features.
How to stand out from the crowd with eBay Promoted Listings
Presented by:
Mark Granshaw, UK Promoted Listings Product Marketing Manager, eBay
Ellen Mikals, Senior Product Activation Manager, eBay
Sign in to Tamebay Live on Monday the 17th of May, for an overview on how you can increase your chances of making a sale by getting more views with Promoted Listings. Mark and Ellen will also take a deep dive into the latest product release – eBay Promoted Listings Automated Campaigns and how you can make them work for your business.
Register here to attend this session!
eBay's new marketing & Data tools – Coded Coupons
Presented by:
Berengere Chaintreau-Fuchs, Global Product Marketing – Head of UK & Seller Promo Tools, eBay
Coded coupons for your shop are coming on eBay this Spring. On Wednesday the 19th of May at Tamebay Live, Berengere will present the new tool and how you can use it to drive buyers back to your listings to build repeat customers and your online brand. Q&A welcome at the end.
Register here to attend this session!
How display advertising is working harder for sellers on eBay
Presented by
Harmony Murphy, GM Advertising UK, eBay
Sylvie Walker, Brand Partnerships Manager, eBay
Discover how the death of the cookie and an even greater focus on brands and sellers has reinvigorated advertising solutions on eBay. From richer targeting solutions and access to more powerful insights to advertising placements reserved solely for sellers, Harmony Murphy and Sylvie will reveal what's coming next exclusively at Tamebay Live on Tuesday the 18th of May.
Register here to attend this session!