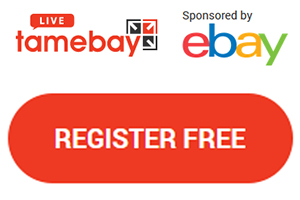 There's no denying that it's been a tough year for cross border sales with Brexit, the pandemic, the Suez Canal delays and a host of other regulatory changes. That's why we're devoting a full day at Tamebay Live focusing on expanding cross border with best practice masterclasses to help you grow your business.
If you've not yet registered for Tamebay Live, sign up to ensure you don't miss out on this week of masterclasses. If you miss any, so long as you register you'll be able to watch them after the live event so register today!
Carriers for expanding cross border
Day 4 of Tamebay Live will be cohosted by GFS who will kick off the day with a panel of top carriers who can answer your questions regarding shipping globally. Bobbie Ttooulis (GFS) Hermes (Europe), UKP Worldwide (USA), Linex Solutions (Asia) and DHL (UK) to give expert insights into the customer delivery preferences and nuances of key markets. Join this masterclass to understand what it takes to have a winning delivery strategy for each of the core ecommerce regions – USA, Europe, Asia and UK.
Expanding cross border – the marketplaces
Tmall Global in China
Pattern will be presenting two sessions, one focused on how to reach and retain profitability selling on Tmall Global. Pattern is a China Trade Partner for brands including Skechers and Thorne. Lara Jelowicki and Desiree Wong will share real data and insights into how we get results for the brands we partner with, including case studies on Tmall Global launch campaigns, off-platform demand generation techniques, the impact of Livestreaming and Tmall's social selling platform Weitao, KOLs and other demand-generating partnerships, building a pricing and promotions strategy to maximise your 11.11 sales.
noon and Amazon in the middle East
In Pattern's second masterclass they will turn the focus to mastering marketplaces in the Middle East. Pattern is the authorised Amazon seller for brands such as Adidas, Reebok and KONG in the Middle East. In this session, David Quaife will explain how brands can launch and optimise their performance on Amazon and Noon in the UAE and Saudi Arabia to convert the region's affluent customer base.
Cdiscount in France
Cdiscount is the French leader of ecommerce with more than 24 million unique visitors per month, and 10 million active customers including 2 million loyal customers. In the afternoon, join Djamella Anfif to discover how to sell in France with Cdiscount and grow your European business.
The mechanics
Jesse Wragg from eCommeleon will help you understand marketplace requirements to easily diversify your business and how to use them to your advantage. Marketplaces, domestic and international, each have their own requirements. These requirements change so often that it can be daunting to sellers, regardless of the amount of experience they have. In this session, you will learn how to understand what it is that marketplaces actually want from you, why you should provide as much information as possible about your products, and how to do this in an efficient way when selling on multiple marketplaces.
Selling on multiple marketplaces overseas sounds complicated and it is, so check into the masterclass with Jonny Hofberger of plentymarkets to learn how to start selling on over 50 marketplaces within just a few weeks!
The opportunities and listing on overseas marketplaces is what Niels Floors of ChannelEngine will focus on as this masterclass addresses the marketplace trends in 2021 and opportunities to help online sellers scale their business internationally.
The paperwork
The opportunities for cross-border ecommerce have never been greater – but so are the compliance challenges. This masterclass with Martyn Noble of Hurricane will show merchants, marketplaces and others involved in international ecommerce, what good looks like and how to nail best-in-class cross-border ecommerce in 2021 and beyond.
Finally, how do you fund your growing global business? Leonardo Felisberto of SellersFunding will help you to identify when financing makes sense for your business and the different solutions that are available to you. In addition, he will explore how using cross-border collection accounts and local currency payments will help protect your profit margins as you sell across different regions.