Pinterest Product Tagging and Paid Partnership are two new features, which enables Creators to monetise for the very first time, tag their Ideas Pins with shoppable products and make clear any partnerships with brands on sponsored content.
Anyone with a business account can create Idea Pins and then with Pinterest Product Tagging turn them into shoppable products, in order to help their audience go from inspiration, direct to purchase. These tagged products will then link through to in-stock products on the retailer's site.
Pinterest has always been a Creator-driven platform with Creator content powering the ideas that inspire people everyday. So this new update will not only help Creators build their businesses by monetising their content, but it will also enable brands and advertisers to become more visible too.
While people have been coming to Pinterest for shopping inspiration for a long time, these new features enable Creators to monetise their content for the first time, as in the last year Pinterest has witnessed huge growth;

89% of people are now using Pinterest to find shopping inspiration
64% of Pinners turn to the platform to find an idea, product or service they can trust
77% of weekly Pinners are now discovering a new brand or product on Pinterest
"Pinterest is the place where creators with inspiring and actionable ideas get discovered. With this latest update, we're empowering Creators to reach millions of shoppers on the platform and monetize their work. Creators deserve to be rewarded for the inspiration they deliver to their followers, and the sales they drive for brands. Creators are central to our mission to bring everyone the inspiration to create a life they love, and we'll continue working with them to build their businesses and find success on Pinterest."
– Aya Kanai, Head of Content & Creator Partnerships, Pinterest
Pinterest Product Tagging with Idea Pins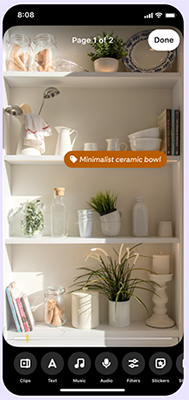 Pinterest is like a massive catalogue with hundreds of millions of Product Pins uploaded by retailers, ingested through a partnership with Shopify, and saved by Pinners. People come to Pinterest to shop, and that propensity increases with Idea Pins, a multi-page video format available to all creators in the US, UK, Australia, Canada, France, Germany, Austria and Switzerland. Pinners are 89% more likely to exhibit shopping intent on products tagged in Idea Pins than on standalone Product Pins. Now, Creators can tap into that catalogue and harness that shopping intent by tagging specific products in their own Idea Pins.
On Pinterest, Creators can reach, teach and inspire the largest audiences online of beauty enthusiasts, fashion shoppers, home sprucers, DIY weekend warriors, nightly family chefs and much more. Creators such as Fall for DIY, CHAOS by Ariel and urgalsal_ are already making their content shoppable and helping their audiences make inspired purchases. For Pinners, this means that they can now shop right from their favourite Creator's Idea Pins and go from inspiration to purchase.
Building brand partnerships
Creators with existing brand partnerships who are creating branded content have an easier way to disclose paid relationships with a new tool that will add a "paid partnerships" label to Idea Pins.
Knowing that many Creators have established partnerships with brands and want to highlight their branded content across Pinterest, a new paid partnerships tool has been introduced (currently in beta) that allows Creators to disclose their paid partnerships. Creators who make branded content will be able to add the brands directly in their Idea Pins, and once the brand approves the tag the Idea Pin will include a "paid partnership" label. This tool will make it even easier for Creators to disclose partnerships with brands and use their expertise to connect with Pinners authentically.
Pinterest are focused on building a creator platform centered on inspiration over influence and entertainment. With these latest updates, Creators can make their content more actionable and shoppable, make a living and easily partner with brands.
Pinterest are launching the Idea Pins product tagging tool to all business accounts in the US and UK and will continue rolling out access over the coming months to international creators. The paid partnerships tool is now live for select Creators in the US, UK, Canada, Australia, Ireland, New Zealand, France, Spain, Italy Germany, Switzerland, Austria, Sweden, Brazil, Argentina, Mexico, Chile, Colombia and Peru.