At 5.23pm on Sunday I suddenly decided there was a must have tool I needed and promptly ordered it on eBay. It arrived around 9.45 this Tuesday morning. As this was the first eBay Fulfilment by Orange Connex delivery experience we've personally experienced here at Tamebay, we thought we'd share the customer facing side of eBay's new fulfilment service.
There was no indication at the point of sale that the seller was using eBay Fulfilment by Orange Connex, on the listing it simply offered "Free postage – In time for Christmas By Tue. 07 Dec". In all respects a consumer wouldn't know that the delivery experience would be any different to purchasing from another seller other than a very fast and free service was offered.
Delivery speed
Firstly it's hard to fault the speed of the delivery – there are very few businesses what you can order from on a Sunday evening and have delivery the following day, Tuesday delivery is more than acceptable and classed as a next working day service. When I checked the listing prior to purchase Tuesday was indicated as the expected delivery date so all is good here.
Packaging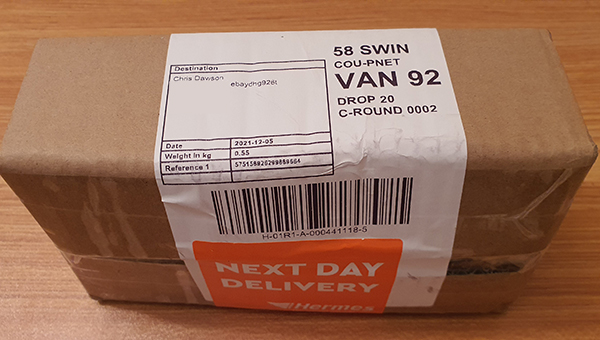 Packaging is hard to complain about – if I was being ultra picky I'd say that the box was slightly undersized by about 5mm as it was bulging a little, but a bigger box would have certainly been overkill. Based on the product it's top marks. There as the normal courier label but the addition of a big orange "Next Day Delivery" sticker. On the base of the box was another label carrying the Seller SKUID as well as the Orange Connex SKUID. Additionally on this label were the words "Made in China", largely irrelevant for a UK to UK delivery but important for any parcels being shipped overseas for import duty assessment.
The product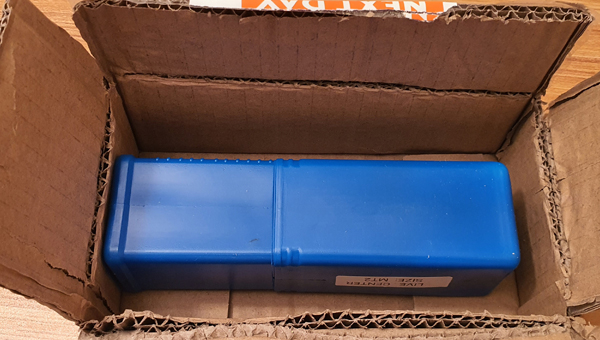 Whilst the product is almost irrelevant (if you're interested it's an MT2 Live Center… basically a chunk of metal weighing in at just under half a kilo) and having purchased products like this in the past (also shipped in a protective plastic sleeve) they've often arrived in just a plastic mailer. Based on this we'd have to say that eBay Fulfilment by Orange Connex take great care to ensure that the products you sell arrive in perfect condition with zero chance of damage in transit.
Should you offer an eBay Fulfilment by Orange Connex Delivery Experience
If you're looking for a fulfilment service for your eBay business then based on this delivery experience we'd have to recommend eBay Fulfilment by Orange Connex. A faultless delivery is something we've come to expect and demand of couriers, but the packaging is also robust, communications on behalf of the seller were great, and the product arrived bang on time. What more could you ask for on behalf of your customers?
If you want to find out more, the eBay help page where you can get started is here.