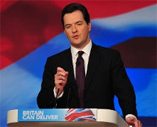 Whilst there was plenty of doom and gloom in the Conservative Chancellor George Osborne's speech at the party conference today there was one interesting idea for businesses. Give your employees shares, on which the government won't tax them, and in return your employees give up their employment rights in exchange for new ownership rights.
Explaining that it's a three way deal he laid out the proposal as particularly suited to start up companies:
"You the company: give your employees shares in the business"
"You the employee: replace your old rights of unfair dismissal and redundancy with new rights of ownership"
"And what will the Government do? We'll charge no capital gains tax at all on the profit you make on your shares".
The shares can be between £2,000 and £50,000 value under the scheme which is expected to be fast tracked through Parliament for introduction in April 2013. The chances are that there'll be a deluge for employees eager to take a stake in the companies that they work in, and for employers it's not a bad deal – you'll never have to worry about redundancy payments again.
Whilst the government is already facing accusations of taking away employees rights, it's also fair to say that employees with a real stake in a company are likely to be more committed. However it's worth looking at the figures – if you work for a tech company which explodes in value you could make a killing, but if growth is likely to be more modest you'll only save around 20% tax on much more modest potential profits. On the down side if the company gets into financial difficulties or goes under you'll lose your rights to redundancy which in all likelihood would have been a much higher figure than any potential tax savings.
Would you take the share deal or would you prefer to keep your employment rights. More importantly as an employer would you be willing to give your employees a stake in your business, in the form of shares with a notional value, in exchange for the knowledge you could lay them off without it costing you a penny?