Amazon and Royal Mail Local Collect
Amazon and Royal Mail have announced a deal to enable click and collect of Amazon purchases at local Post Offices.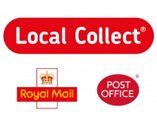 It's an integration of Royal Mail's Local Collect service, which gives consumers the option to have their parcels delivered to any Post Office of their choice where it'll be held for them to collect at a time convenient to them.
This gives Amazon a mind boggling array of collection options. Even for me living in a small village, with Local Collect added to Amazon Lockers and Collect Plus locations I've a choice of 7 pick up points all within a couple of miles of my house.
As well as the added convenience for Amazon customers, this also won't do Royal Mail any harm. Having recently cited Amazon as hampering growth since they started their own courier company, every time an Amazon customer selects Local Collect it's an Amazon order won back by Royal Mail.
eBay Click & Collect
eBay have a slightly more difficult job than Amazon as far as click and collect goes. eBay don't sell anything and don't ship orders on behalf of their retailers so it's not as simple as plugging in collection options at checkout – eBay also have to make sure that retailers selling on the site have the back end support and they've done a fantastic job of making it seamless for the Argos integration.
However eBay only have 650 odd Argos stores as collection locations, Amazon now have 11,500 Post Offices, 5,500 Collect Plus stores plus a few hundred of their own lockers, not to mention the 500 'Pass my Parcel' stores for same day pick up.
I'd love to see eBay add more Click and Collect locations in 2015. Royal Mail Local Collect is an obvious choice, as are Collect Plus stores and myHermes Parcel shops. If eBay can integrate with Argos surely they can also integrate with other carriers who offer collection and are already on the site as shipping choices?
24/7 Click & Collect in the future
Both eBay and Amazon could go even further however. Even with Amazon's multiple options you're limited to store opening hours. If pubs can stay open for 24 hours why can't consumers pick up parcels 24 hours a day? That's where companies like InPost come in, their lockers are in locations which are accessible 24 hours a day.
Jonathan Smith, Chairman of InPost, has some interesting stats to share: "InPost data shows that more than half of parcels (56%) are collected from our lockers between 4pm and 9pm and 58% are collected outside standard store or depot opening hours". He adds "People lead increasingly busy lives and can't always stick to set times for pick up or delivery. Locker solutions mean that the parcels wait in for them rather than the other way around".
What's in it for retailers?
One of the biggest problems for a courier is failed deliveries, it costs more to attempt a second delivery. It's also something that consumers hate and that makes it the retailers problem. Like it or not it's we retailers that get the low eBay DSRs, Amazon defects, customer service calls and the bill for redeliveries. Click and Collect should cut the failed delivery hurdle to almost zero and that's something that makes everyone's lives easier.