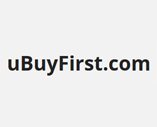 Most of the time, when we talk about eBay on Tamebay, we write about selling, at least so far as professional eBay users go.
However there are professional buyers out there too, I remember hearing about one Shooting Star (10,000+ feedback) who had never sold a single item on the site. uBuyFirst is an application for the pro-buyers on eBay.
There are many reasons people might buy on eBay, for instance a mobile phone warranty company might have a daily list of unrepairable mobiles they need to purchase as customer replacements. They want to know the instant the models on their list come up and make a snap decision if it fits their purchase requirements.
Pro buyers might use sniping tools to grab an auction at the last minute, but that takes time – if nothing else you have to wait for the end time of the auction which may be days away. Fixed price items are more attractive options if you're buying a lot and that's where uBuyFirst comes in.
uBuyFirst is an eBay compatible application for finding newly listed items and can search eBay 10s of 1000s of times an hour. That means it surfaces new listing quicker than probably any other app. Not only do they find new listings but you can also set a ton of criteria including cost plus shipping, condition, item specifics and even search strings within the item description as well as viewing images.
Once uBuyFirst finds an item on your buy list, you can make the purchase directly through eBay's API, this is generally way faster than a browser based checkout as there's no lag while webpages or images load.
There is a free version of uBuyFirst, but serious users will want to subscribe to the higher levels to gain faster search and more search options and checkout through the API. There's also a 30 day trial of the Enterprise subscription which is the most powerful version.
If you're a power buyer on eBay you can sign up for uBuyFirst and get started on a trial today.