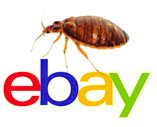 There appears to be a glitch with unsold items displaying incorrect quantities on eBay. This will be a particular problem for sellers who simply relist assuming quantities are correct and especially for those who rely on eBay for their stock control rather than a third party system.
Tamebay reader Debbie tells us "I went into my 'unsold items' yesterday to bulk relist, where I discovered a load of listings that I knew I had sold out of the product. In the list of 'unsold' items it was showing that I had a quantity of 1 or 3 (or whatever) but if you actually clicked the item link to view the auction it was showing correctly as having had 3 items …sold 3 items and 0 available. However within the 'unsold' items it was showing that I still had a quantity left???
Unfortunately I bulk listed a load of listings before I had realised this so effectively I had a lot of active items that if they sold I could not supply!
Some of the multi variation items were even more bizarre as it would show in my unsold as original quantity 3, available quantity 3 but when you clicked to view the variations it would say that I had 0 left of each variation!!
Overselling is of course the last thing any eBay seller wants to do intentionally. However as with many eBay glitches this goes beyond the affected listings, until the glitch is resolved it means you can't trust your inventory for any listings that you relist and effectively need to carry out a full stock check to ensure your available quantities are correct.