Having sold for ten years on eBay, I wish a service such as Drop & Go had been available to me at the time. As a sole trader I had to do everything in the business from shipping orders to going and collecting new stock, attending auctions, keeping up to date with accounts and everything else that running an eBay business entailed.
My daily routine was to go to the warehouse and pick and pack orders and then drop them at the Post Office on the way back home or go off to collect new stock. This meant I didn't want a daily Royal Mail collection as sometimes I'd start work early and be done by mid-morning, waiting all day for a 3pm or 4pm collection simply wouldn't have worked for me.


What I did face on a daily basis was the queue at the Post Office, often behind other marketplace sellers each with ten or twenty parcels to post. I'd have loved the opportunity to use Drop & Go to jump the queue and speed up my day so today we talk to the Mark Siviter, Managing Director – Mails and Retail at the Post Office to find out more about the Drop & Go service and how it can save you time:
What is Drop & Go?
Drop & Go is a fast-track drop-off service for online marketplace sellers, small businesses and anyone who regularly sends mail. It does exactly as its name suggests: customers avoid waiting in the main queue, drop off their parcels and go. Their items are then processed by the Post Office team before the Royal Mail collection that same day. The Drop & Go service is available in most of our 11,600 Post Office branches, and over 100,000 customers have signed up for it…it's our fastest growing solution for parcel senders.
What are the benefits?
Drop & Go has been designed specifically with marketplace seller's needs in mind because we understand the importance of their time. Drop & Go is essentially a VIP service for our frequent senders. The pre-paid card service ensures customers spend less time in branch, freeing up more of their time to spend on the other aspects of running their own business. Our latest research with marketplace sellers confirmed that convenience, trust and proof of posting are the key things customers look to their postal providers for. Post Office has always prided itself on these qualities, and now with Drop & Go we've made it even more convenient for customers.
Drop & Go is also an effective way for Post Office branches to recognise and reward our customers. The service itself provides convenience and flexibility for online sellers, however it's the personal touch of our postmasters across the UK that can really make the customer experience even more valuable. Some people start selling on eBay as a spare-time hobby and end up running quite large businesses. The Post Office plays a key role in nurturing these growing businesses. We know that many of their owners will turn to their postmaster for help and advice, especially in the early stages. Our postmasters are running small businesses themselves which means they really understand and appreciate, more than most, the needs of other small businesses.
Why would you use this service over a competitor?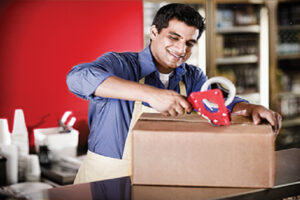 Drop & Go promises a quick drop-off service at the Post Office. So rather than waiting around all day for a courier collection, or joining a queue to drop-off, customers can drop off at a convenient time for them. And this can vary day-to-day to fit in their changing schedules.
We know that many smaller sellers do not have home printing facilities and another benefit over competitors is that we'll print your postage labels for you in branch so no printing is required. Alongside label printing, our branches will also weigh or measure your items too. With over 300 years' experience of post, you can trust us to get it right!
How does Drop & Go work?
It's quick and easy to get started. Download and complete the Drop & Go application form and take it to your nearest branch with some ID. You'll be given a Drop & Go card to use straight away. Then it's simple:
Drop off your items to post to the fast-track counter (or agreed drop-off point at your local branch) with your completed manifest
We will process them for you on the same day
The cost will be deducted from your prepaid card
If you're sending anything tracked or if you need any certificates of posting, we'll keep those receipts ready for you to collect the next time you come and see us
Also, make sure you've registered your account online and linked your card. This gives you 24/7 access your Drop & Go account online
What's next for Drop & Go?
Our customers are at the heart of everything we do and that's why we are investing in our Drop & Go service to meet and exceed the expectations of our customers. Some of the features coming soon to Drop & Go include:
Real-time item level information online – you can already see your basket level information online and soon you'll be able to access item level information including tracking numbers online too. You'll still need to collect your paper Certificate of Postings from your branch on your next visit.
Linking your eBay account to your Drop & Go account to create your manifest online
PayPal as a method of payment
And many more… Look out for these updates and new tools over the forthcoming weeks, Tamebay will be the first to know when they're live!
Where can marketplace sellers go for more information?
Visit our website for more information postoffice.co.uk/dropandgo or talk to your local branch about the Drop & Go service.
Case study
Amy Elson has experienced the benefits of Drop & go first hand after launching her personalised jewellery business, Chambers and Beau, in 2008. All the jewellery is bespoke and made to order and most of the sales come from online. The business is based in Ashburton, Devon and selling on various online marketplaces such as notonthehighstreet, Etsy, John Lewis and directly through her own platform www.chambersandbeau.com, means her goods travel as far as Australia.
Amy has always used the Post Office to send out customer orders, saying "I trust them and it's always been the easiest option. However, as my business started to grow, sending parcels was taking up a lot more of my time, so I signed up for Drop & Go."
"Using Drop & Go has freed up a lot of my time, allowing me to be more productive" says Amy when reflecting on the decision to sign up to the service. She continues "Stuart and Jackie Rogers, who run my local Post Office, have done so much to help, that additional support makes me feel as though they are part of my business."
Open a Drop & Go Account
Open up a Drop & Go account today by visiting: postoffice.co.uk/dropandgo