I don't often return anything on eBay, in truth until yesterday I can't remember the last time I did actually return a purchase. But, having to go through the current returns process I'm all in favour of eBay auto-accept returns which started to roll out last week.
We are all aware of the downsides to sellers and buyers of auto-accept returns – no exchanges, no chance to send spare parts, no chance simply to give some customer service and get the product working when the buyer doesn't know how to use it… and that's before buyers claiming not as described to get free postage. However from a buyer perspective returns on eBay are currently a nightmare and something has to be done and that something is auto-accept returns.
I don't think I'm a nightmare of a buyer and the back story is I made a purchase on eBay which I was delighted with. So delighted in fact that I ordered a second duplicate item to match the first. The problem arose that the seller was out of stock and sent me a different coloured item and it doesn't match the first – they look daft together.
I started emailing the seller on the 13th of September to point out they had sent the wrong product. Each time it took a day to get a reply which was first of all "Sorry, other customers have been happy", followed by "Can you send me photographs" to which the response was "We'll give you 20% off if it'll make you happy" and finally when I exasperatedly asked if they could just exchange the item they told me "no sorry, we don't sell this item now". After four days of trying to resolve the issue and having run out of options I opened a return case on the 17th of September.
Opening a return case is bad for the seller because I opened a significantly not as described case. However it's even worse for me as the buyer because the seller had 8 days until the 25th of September to respond and if they and I can't agree then it could drag on until the 16th of October.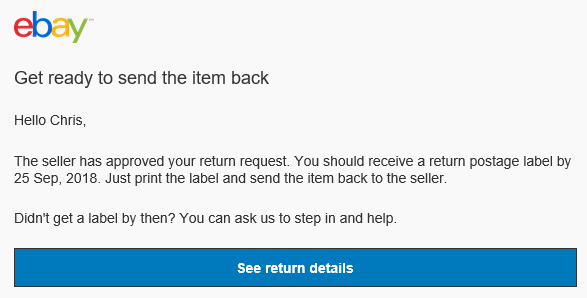 After 48 hours, the seller did agree to the return. I still can't return the item however as I'm now waiting for a return label which could take until the 25th of September to arrive – eBay allow seven days for them to get the return label to the buyer who in the mean time can't return the item and can't get their refund.
When eBay Auto-accept returns roll out, the minute I click the return this item button I'll be able to print a label and get shot of the item and await my refund. Even with the worries that sellers have, as a buyer that's given my seller ample opportunity to correct the error without impacting their metrics, I'm all in favour of eBay auto-accept returns.
Sooner or later I'll get a label to return the item and then doubtless I'll have to trek to a shop to post the item by Royal Mail or some other carrier such as myHermes or Collect Plus (I don't get a choice in this). This is all over an item that cost £7.46 and you might be thinking it's hardly worth the effort and I'm starting to agree with you. Returning an item on eBay is just too difficult and time consuming and having taken four days sending messages having to now wait to return the item is getting tedious. I have to ask myself do I really care about the loss of £7.46 and would it be easier to leave the seller a negative feedback and move on… as a seller would you have sympathy with a buyer that did that when a return is just too onerous?
I'm not eager to return another item purchased on eBay, as a buyer I hate returns – I just want the right item the first time, but hopefully next time the wrong product is delivered by an eBay seller returning it will be a trouble free one click procedure.
Finally, in passing in normal contradictory fashion, whilst the eBay return case in the image above clearly states that I can escalate the case to eBay on the 25th September if the seller hasn't resolved the issue, the eBay Message states the relevant date is the 26th September. Happy to take opinions on which is correct?