Yesterday at the Government Coronavirus briefing, Prime Minister Boris Johnson pledged he would lay out his plan for exiting the lock down next week. One interesting snippet was that to encourage people back to work, face masks may become advised – not because they'll protect you from catching the virus but because they might give confidence that it's safe to go back to work. This is something Scottish First Minister Nicola Sturgeon has already advised for Scotland.
The official advice from the UK government and from the World Health organisation is that non-medical grade masks won't give any protection from catching the virus. However there is some credence that they may prevent you from spreading the virus – coughing and sneezing while wearing a mask will go some way towards preventing you from spraying droplets at speeds of up to 100 miles an hour.
There is definite advice that you shouldn't wear medical grade face masks as there are already shortages for health care professionals around the world and if the public start sourcing them it will merely increase the scarcity. There is also a worry that many don't know how to wear a mask, will end up itching and touching their face even more frequently, will contaminate themselves when removing a mask and indeed won't immediately stick it into the washing machine on a hot wash. As an example, if you wear a mask on public transport on the way to work, there's a high chance you'll leave it on your desk, or in your bag or pocket all day and re-wear it on the way home. That's a bad idea but not many will have two per trip!
Now for a diversion, Etsy got hit hard at the start of the Coronavirus crisis and their share price crashed from $62.46 losing half their value in half a month and hitting a low of $31.69 by the 20th of March…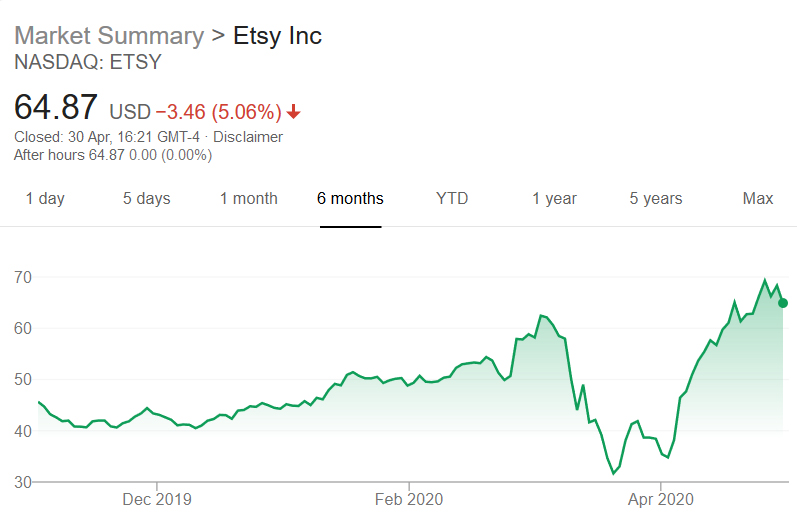 …Then something amazing happened and the Etsy share price peaked at an all time high of $69.28 and it's all down to the US Centers for Disease Control and Prevention (CDC).
When the CDC recommended the wearing of fabric face masks to US citizens Etsy went crazy with millions of buyers immediately looking to purchase. Etsy mobilised thousands of sellers who ended up making millions of fabric face masks.
The FT has some really good coverage of Etsy's performance and the face mask impact here, with input from CEO Josh Silverman, which is well worth a read.
"I woke up to discover it was suddenly like Cyber Monday. But everyone in the world wanted only one product."
– Josh Silverman, CEO, Etsy, speaking to the FT
The FT reports that 50,000 Etsy sellers have sold at least one fabric face mask and 10,000 have sold over 100. Now, with the Scottish government already recommending you should consider optionally wearing a fabric face mask and the UK Government likely to recommend likewise soon, if you have a sewing machine it's time to start manufacturing a stock pile ready to list.
Whilst medical grade face masks are quite austere and somewhat scary, fabric face masks are almost a fashion accessory so the more attractive material you have the more likely they are to sell. If you need a pattern, the CDC has a basic face mask pattern and instructions.
This will of course be a short term win, but with many small businesses struggling in the current economic and health crisis, it may be a way to make some quick money. However , Etsy are keen to point out that people should be careful not to make any unsubstantiated claims in their listings so make sure your listings are about the product and don't imply any medical protection.