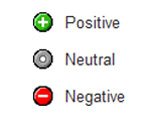 There's been some interesting comments regarding feedback left by buyers on eBay on Tamebay recently. One reader said that anything up to 40% of buyers don't bother to leave feedback any more. From my own experience of selling on eBay I have an overall 75% of feedback received compared to the number of sales completed.
I have a theory that with more buyers (anything up to 40%) purchasing on mobile devices it may simply be too troublesome for them to bother leaving feedback. If you don't routinely buy on eBay using one of eBay's mobile apps then you should try it for yourself. There's no highlighted items awaiting feedback as there are when using My eBay in a browser. Plus you have to click into each item that you've already purchased to leave feedback – it's a long drawn out process.
We're interested to hear what percentage of buyers leave you feedback, click on the poll to let us know what your overall percentage of feedback received compared to sales is and let us know in comments below if you have any further insights such as do you leave feedback first. Do you see a difference between categories that you trade in and do you yourself always leave feedback for everything that you buy on eBay?
[poll id="3″]