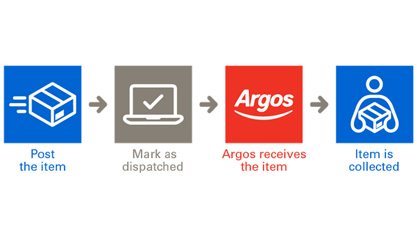 eBay UK started its Click & Collect experiment with Argos last year and it has clearly been a resounding success.
From September, all if you:
– Offer Fast & Free with an eligible carrier and service.
– Update your listings to offer an approved service from 1 of these 5 carriers: Royal Mail, Parcelforce, UPS, DPD, Yodel.
– You're selling an item weighing less than 20kg and no one side of the parcel exceeds 120cm and the second-longest side can't exceed 76cm.
If all that's in order, you're in and then processing a sale is straightforward too:
With Click & Collect, a seller dispatches the order exactly as if it was a normal despatch:
1. When an order comes in, the seller creates the postage label as usual, addressed to the buyers' chosen Argos store. Whether it is a hand-written label or if the seller uses custom integration, it is key to include the 6-digit unique identifier code in the second line of the address.
2. The item is then sent using the eligible service and carriers specified in the listing and the seller marks the item as dispatched in My eBay.
3. Once the buyer's order is ready for collection at Argos, eBay sends them an email and text message with a collection code to bring to the store and enable collection.
Clearly this is good news for sellers. It's a 100% solid gold value add because it attracts only minimal work for sellers and no extra cost and (whatever your personal views) Click & Collect is massively popular with many consumers.
According to eBay, 96% of the UK population is within 10 miles of an Argos store so buyers are never so very far from a collection point with evening and weekend opening times. All you need to do is offer a fast and free delivery from one of the accredited carriers.
Here are some other things eBay say: "offering Click & Collect may make the item surface higher in search results. Buyers can also search for listings that offer Click & Collect." And "buyers are more likely to buy higher-priced items if they have a Click & Collect option, particularly around Christmas. In 2013, 40% of UK shoppers used a Click & Collect service for their Christmas shopping."
It makes enormous sense to make your listings Click & Collect ready this Christmas. I bet that eBay is going to make this central to their seasonal campaigns because high spending buyers love it. There may also be a Best Match bonus and it's available at no extra cost to sellers.
Lots of Tamebay readers will knock eBay and criticise them for not innovating or looking out for sellers. C&C bucks that trend. It's an amazing idea, it's a brilliant boon to sellers and it gives eBay sellers an edge that could be a great filip for their business.
Are you going to embrace Click & Collect?